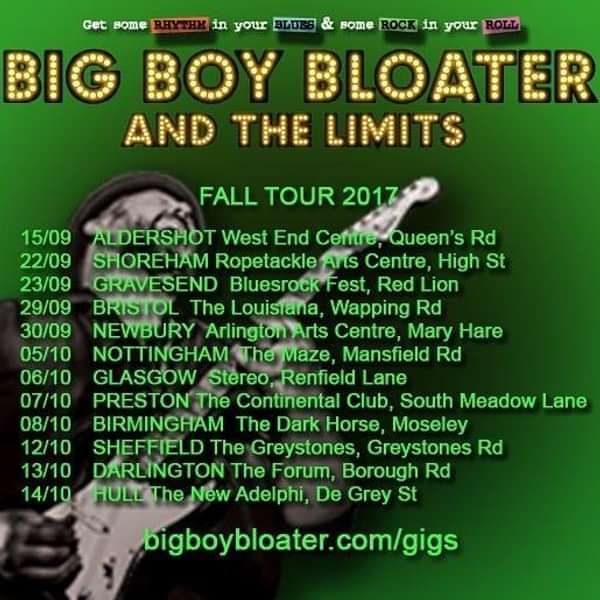 Like your Blues with a lot of Rhythm and your Rock with a lot of Roll?
Big Boy Bloater and The Limits are the band in question and they're bringing their raucous brand of R&B with a modern twist to The West End Centre for the 1st time – which is surprising as Bloater is an Aldershot lad, spending much of his mis-spent youth here watching Blues Legends and discovering beer!
Bring your dancing shoes and be ready for tales of stalkers, dance-crazes, robot lovers + more set to an infectious beat, with world class guitar, and a vocal that has not only been compared to a cross between Tom Waits and Howlin' Wolf but was voted as 'one of the top 100 blues vocalists of all time' in a poll by readers of The Blues Magazine. This is good time music for good time people. Current album 'Luxury Hobo' has barely been out of the Amazon top 100 since its release and with good reason too - it made a few 'best of 2016' lists including Vive Le Rock Magazine. We can't wait for this show, don't miss it!
"One of the great Blues men of our time" Jools Holland "I'm a massive fan of Big Boy Bloater – he's a charismatic boy with a big voice"Imelda May "Bloater is a phenomenal guitarist"Mark Lamarr "I love this guy, he sounds like his voice has been soaked in turpentine for the last decade"Craig Charles
Line Up
"One of the great blues men of our time" Jools Holland, BBC
"Bloater is a phenomenal guitarist!" Mark Lamarr, BBC Radio 2
"I love this guy…he has a voice that sounds like it's been soaked in turpentine for the last decade!" Craig Charles, BBC 6 Music
"I'm a massive fan of Big Boy Bloater, he's a charismatic boy with a big voice" Imelda May
"The best R&B guitarist and singer in the UK" The Blues Magazine
Big Boy Bloater is a guitarist, singer, songwriter, radio presenter and entertainer of the highest order. His take on roots and R&B has impressed many people within the genre, from the original greats of Blues & roots to modern aficionados. He is regularly asked to play guitar for legends of R&B, roots and blues and he takes his own band - the Limits - on tours around the globe as well as working his own One Man Show and stepping in as a special guest or session player.
Bloater has played at many major festivals across the US and Europe, including Latitude, Secret Garden Party, Hop Farm Festival, BluesFest, The Great British R&B Festival, Burnley Blues, Viva Las Vegas and more. His shows are always impressive, energetic and fun, without losing any musical integrity. His upbeat songs belie their dark lyrics and intricate arrangements. His voice has been compared to Howlin' Wolf crossed with Tom Waits – indeed he was a nominee in Male Vocalist of the Year in the UK Blues Awards 2014. It's a unique show, not to be missed.
He is the presenter of The Blues Magazine Show on Team Rock Radio (the media empire that brings you The Classic Rock Awards) and can be heard worldwide on Saturday and Sunday nights bringing you the best of Blues from the Delta to the modern age as well as exclusive interviews and sessions from the great and good of the blues and roots world.
Bloater has also played for many icons of music and has played guitar behind Imelda May and Paloma Faith and as well as being asked by Sir Paul McCartney to record with him at Abbey Road, he has been interviewed and played sessions on:
BBC Radio 2: Jools Holland Show BBC Radio 2: Jo Whiley Show BBC Radio 2: Paul Jones Show BBC Radio 2: Mark Lamarr's God's Jukebox BBC 6 Music: Craig Charles Funk & Soul Show
as well as appearing in many National magazines and on TV shows around the world.
He has also been immortalised in the 'R&B Guitar Icons' sections of publications:
'Rock & Pop: The Complete Story' (ISBN 978-1844513956) 'The Illustrated Encyclopaedia of Music' (ISBN 978-1904041702) 'Blues: The Complete History' (ISBN 978-1844518128)
"Bloater has always had a passionate love of music, particularly roots music, and it shows in his work. He gives old music new life, he twists it into something unique and fun, whilst still having depth and great musicality. He never feels the need to show off his musical skills because they are there for the world to see, he is without doubt one of the finest guitarists in the UK today."
View Profile