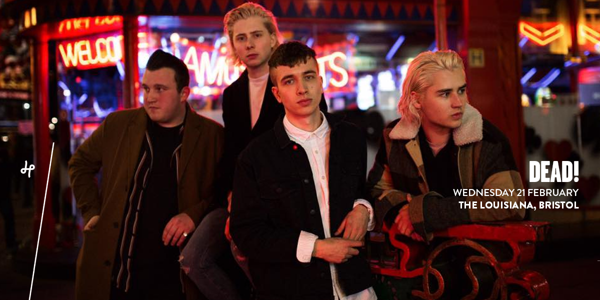 Dead!
Dead! are a band of four fiercely creative people in their late teens and early 20s. These ambitious, imaginative young men found themselves in a cultural cul-de-sac as they watched their music scene disappear around them on their native Isle Of Wight a few years ago and decided to do something about it. The quartet aren't the sort of people who wait for opportunities: they go out and hunt them down. With a fire in their belly, they formed a band, toured Europe off their own back, moved into a house in London together, released their own music, made their own videos and now have a fervent fan-club who follow their every move. They are one of the UK's most exciting new rock'n'roll bands, armed with a stack of raucous, punky anthems and a gung-ho, do-or-die attitude. This was the way it had to be. There are no half measures for Dead!.
WEDNESDAY 21 FEBRUARY
THE LOUISIANA Wapping Road, Bristol BS1 6UA Doors 7.30pm Ages 16+ (under 18s to be accompanied by an adult)
Advance tickets available from: www.alttickets.com www.gigantic.com www.bristolticketshop.co.uk
Line Up
Formed January 2012; five lost boys living in Southampton bonded over a love of Roger Daltrey, broken guitars and Lurhmann's 'Romeo and Juliet'. This is what would happen if Tarantino and Shakespeare started a band.
View Profile