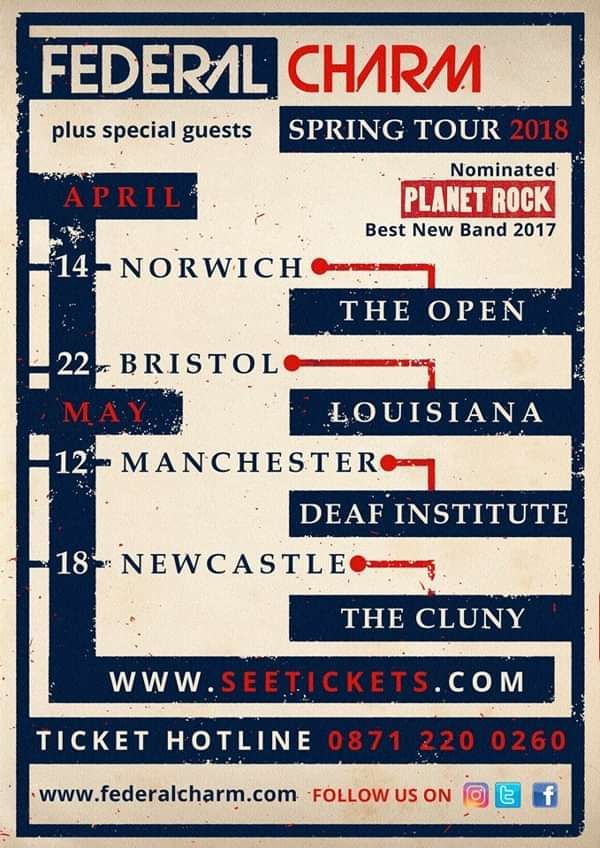 Plus special guests Flowerpot.
We are heading to The Louisiana in Bristol this April as part of our Spring Tour 2018. We're especially excited about these gigs as they mark the first tour with new vocalist Tom Guyer and drummer Josh Zahler. Having played at The Louisiana in 2016 we are very much looking forward to our return for this momentous occasion!
Line Up
"Swaggering riffs, sleazy slide flourishes and cinder raw vocals with a confidence that is utterly winning" - Classic Rock
2015 was a very fine year for Federal Charm :
Second album ('Across The Divide') recorded and released to global critical acclaim.
"No holds barred, fiery, inventive rock 'n' roll" - Classic Rock
"Across The Divide is huge - in sound and in talent. Nothing short of ear-candy" - Fireworks
UK Shows performed with Black Star Riders, UFO and Joanne Shaw Taylor to, again, highly positive reviews
UK Festivals played include the Minehead 'Giants of Rock', 'The Rock & Blues Festival' in Skegness, and just this weekend the main stage at Hard Rock Hell in Pwllheli to rapturous applause.
"Federal Charm are one of the most animated, loud, raucous bands on the UK circuit today. A great set" - Blues Matters
2016 is shaping up in a similar manner and more, with Planet Rock sponsored UK tours in March, June & October and the second and third tracks from 'Across The Divide' going up to radio in January and April.
View Profile