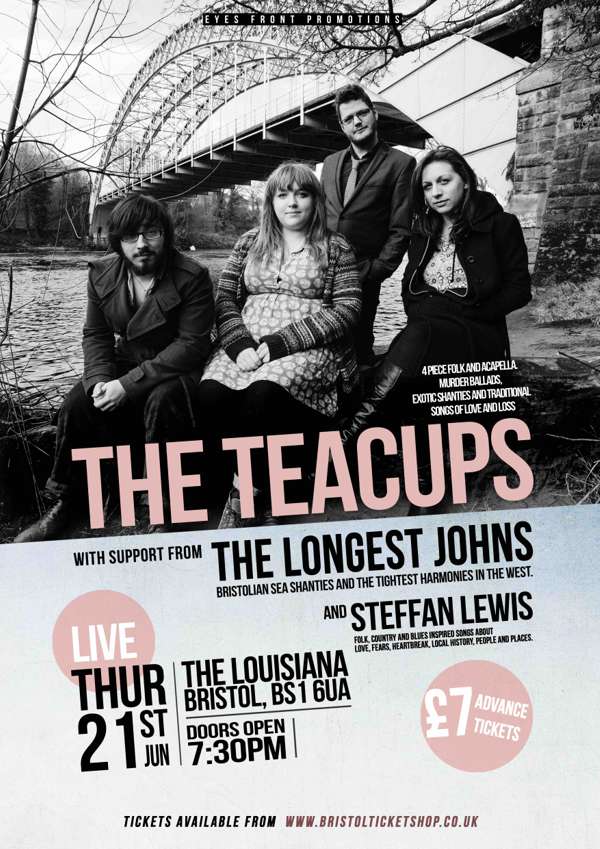 The Teacups
Comprising the singing talents of Alex Cumming (Alex Cumming & Nicola Beazley), Kate Locksley (Night Fall), Rosie Calvert (Speldosa) and Will Finn, the a capella foursome have been creating a storm across the UK festival circuit in the past few years with critically acclaimed performances at Shepley Spring Festival, Beverley Folk Festival, Warwick Folk Festival, Sidmouth Folk Week, Whitby Folk Week and many more.
Their debut album, 'One For The Pot' explores traditional and contemporary songs from all over the British Isles and beyond with a sensitive and lyrical approach to arrangement. Their second album, 'Of Labour & Love' contains new and original compositions as well as murder ballads, exotic shanties and traditional songs of love and loss, and has been critically acclaimed.
The Longest Johns
The Longest Johns are an a cappella folk band, born out of a mutual love of traditional folk songs and shanties. Sharpening up for the imminent release of their second studio album 'Between wind and water', they rock a vast array of maritime songs alongside the more unusual and less traditional folk tunes. After becoming a five-man group in 2015, they've taken their harmonies to new heights, whilst always retaining just the right mix of quality and hilarity. Whether performing songs that are hundreds of years old, or their own original creations, the Johns bring a new feel to audiences wherever they go.
with special guest, Steffan Lewis
'Folk, country and blues inspired songs about love, fears, heartbreak, local history, people and places. Over the recent years he has performed as a duo with Rachel Foster and three piece Ebbing Tides around folk clubs, venues and festivals including Bath Folk Festival, Bristol Folk House and the fringe to the 6 Music Festival. He is venturing out with a solo set of songs being worked up to a new album 'Most Everything'.