Alex Lipinski
+ BLESS. + WEEDS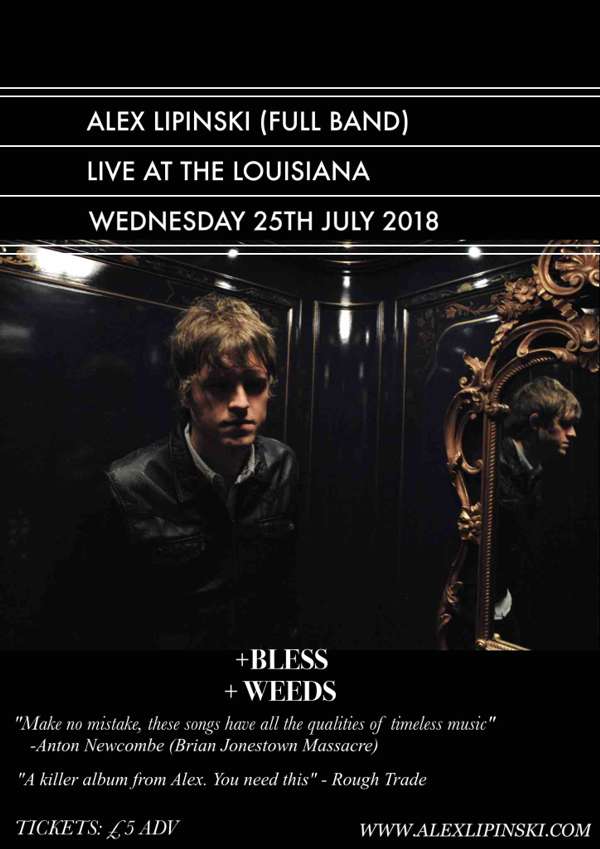 ALEX LIPINSKI
The first thing that hits you is the voice. Alex Lipinski's caressing sympathy, full-throated resentment, and the raw rockabilly excitement of earliest Elvis have grabbed unwary listeners from the West Country to Krakow, Berlin and New York, since he first left Somerset to become a crucial habitué of Soho's legendary, lost 12-Bar Club. He has followed in the footsteps of his hero Dylan to write in the Chelsea Hotel, and sung Elvis songs in the home of an admiring Liam Gallagher, who is a firm champion.
Alex's latest album 'ALEX' was recorded and produced in Berlin by Anton Newcombe (Brian Jonestown Massacre) and has recently been released on Anton 'A' Recordings label. Hailed by Newcombe as, "a young man surely worth my time and efforts. I appreciate his endless hard work and do it yourself ethics. Make no mistake, these songs have all the qualities of timeless music."
Alex will be joined by his full band for his appearance at The Louisiana.
"Lipinski comes across like a star in waiting - one who possesses immense patience with the powers that be - who lets his voice & playing speak for themselves" - Huffington Post
"A killer album from Alex. You need this" - Rough Trade
"At times Lipinski's voice spars like a young Roy Orbison, at others he can float like Jackson Browne, but it is all his own." - Gigslutz
"Played and sung with such vigour and conviction it just sweeps you up and carries you along" – Tom Robinson (BBC 6 Music)
'ALEX' is OUT NOW on A Recordings.
Available on Heavyweight Vinyl, CD & Digital Download.
Physical: http://goo.gl/ffDqd8
Digital: http://smarturl.it/AlexLipinskiAlex
ALEX ONLINE: Website: www.alexlipinski.com Twitter: www.twitter.com/alexlipinski1 Facebook: facebook.com/thealexlipinski Youtube: youtube.com/lipinskimusic Soundcloud: www.soundcloud.com/alexlipinski
BLESS
In their first two years together, BLESS. have had an eventful time to say the least...
Following on from their self-released debut EP Music Comes First - from which came the lead track Daddy Didnt Make It As A Rockstar (described in the Glastonbury Festival programme as "a classic of our time"), they have spent the last two years constantly touring the UK and France, supporting the likes of Frank Turner, The Rifles and The Holloways along the way.
With their second single Easy Lover being played by John Kennedy on Radio X who described their set as "epic" after catching them at The Roundhouse, it's fair to say that the boys haven't spent too much time hanging around.
Plucking various influences from Ska, Soul, Britpop and 60s Rock'n'Roll, they have jokingly described themselves as 'Dr Feelgood and Dexys Midnight Runners having a fight in a circus, which was refereed by The Specials and judged by The Clash.'
Having already obliterated many UK stages in 2018, the boys are about to embark on their biggest European tour to date, including maiden shows in Ireland and Germany, a special homecoming show at London's iconic Dingwalls and two separate trips to France. They will also be seeing the year out by supporting Dr Feelgood at The Half Moon in Putney. With a third single in the form of heavy-fuzz-rouser Loser due to drop in the forthcoming months, the band are set to continue on an upward trajectory and with sweat-soaked live shows on the continent and at home, they currently are an energetic force to be reckoned with.
Ignore them and miss the boat. Simples
Easy Lover is now available to:
VIEW at http://bit.ly/2x0pBxK (Youtube)
HEAR at http://spoti.fi/2wLxIyX (Spotify) + http://bit.ly/2fHm2ZV (Souncloud)
BUY at http://bit.ly/2w9kwWI (Bandcamp) + http://apple.co/2fHU54c (Itunes)
BLESS. ONLINE:
Website: www.blessthisband.com
Facebook: www.facebook.com/blessthisbanduk
Twitter: www.twitter.com/blessthisband
Soundcloud: www.soundcloud.com/blessthisband
WEEDS
The Weeds are a group of long term musical mates that have racked up individually a fair pedigree between them over the years. Signings to Island/one little Indian records in the 90's European and American tours festivals and prestigious gigs behind them now. All beer stories. So with that combined history it was no surprise that these Bristolians got together. Singer songwriter Pete lane who has been writing and recording songs on the down low for many years. The band recorded its debut album 'note to self' and have been gigging this past year to growing interest and acclaim. The sound is hard to pin down as it has been informed by everything from Neil young to Prince/war on drugs to Nick cave / Kurt vile to lcd sound system / Fleetwood Mack to the Beatles / Tom waits to Black Francis & Gomez to Beck. Weeds make a catchy mellow sound that's underpinned by a drivey pocket groove and has been described as original Indi Roots & Alternative pop.
Listen to Weeds here: https://weeds1.bandcamp.com/album/note-to-self-2
Line Up
Alex Lipinski
BLESS. are a Rock'n'Soul explosion from the streets of London. With a sound that reflects influences all the way from The Specials to Love, via the stomping beats of Northern Soul and the relentless energy of Iggy Pop and The Stooges. Currently recording their debut album and ripping up audiences across the UK and France, get them now while they're still fresh and alive.
View Profile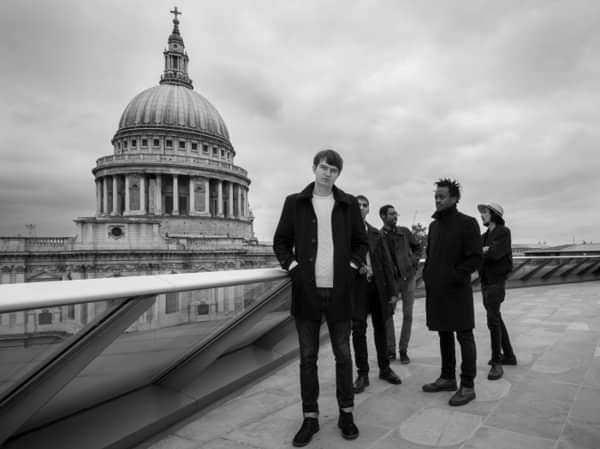 WEEDS