Second Hand Arms Dealer
+ HUT + Grandma's House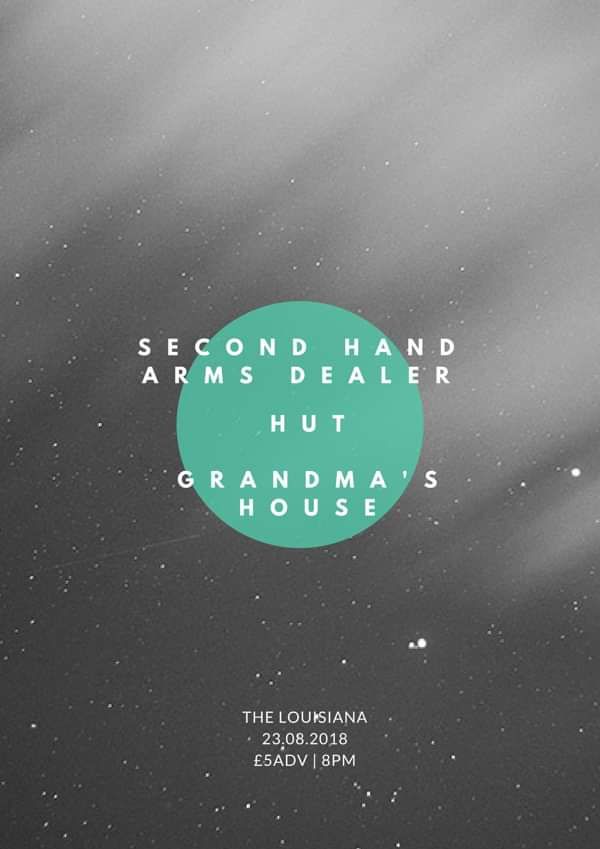 Second Hand Arms Dealer + HUT + Grandma's House
The Louisiana Doors 8pm £5adv, £6OTD
Line Up
Second Hand Arms Dealer are a HUGE new three piece band based in Bristol and South Wales. Second hand is comprised of; Sam Schofield - Drums. Jordan Shortman- Guitar. Joe Spurrell - Bass and vocals.
Drawing from multiple different influences means the range of music is vast. From Rage Against The Machine to Ben Howard there are no limitations to the sound these three produce. That being said all of their music has a similar feel. Schofield adds flavour to his drums with counter rhythms which play with and taunt the listener. Shortman juxtaposes heavy and thundering chorus riffs with beautifully crafted verse melodies running through his intricate pedal board to create a sonic wonder. While Spurrell connects the two with sporadic and funky bass lines, while drawing the listener close with his soft voice only to unleash the full power of his blues rock inspired, angst driven, edge of your seat vocals.
View Profile
Active since 2017, Hut is a Rock band based in Bristol, originally from the south of Europe. The sound shaped in the space between the influences of QOTSA, Royal Blood, The Strokes. Their arrangements are devoted to groovy and sharp riffs and dissonant melodies, lyrics are inspired by a cynical and decadent analysis of different aspects belonging to modern Society. Symbolism and Minimalism are the main approach used in the sound and visuals of "Born Skinny" , defined as a "angst-riddled debut EP" by the magazine Hide The Line. The first single "Born Skinny" was released on February 1st with a video.
View Profile

Grandma's House