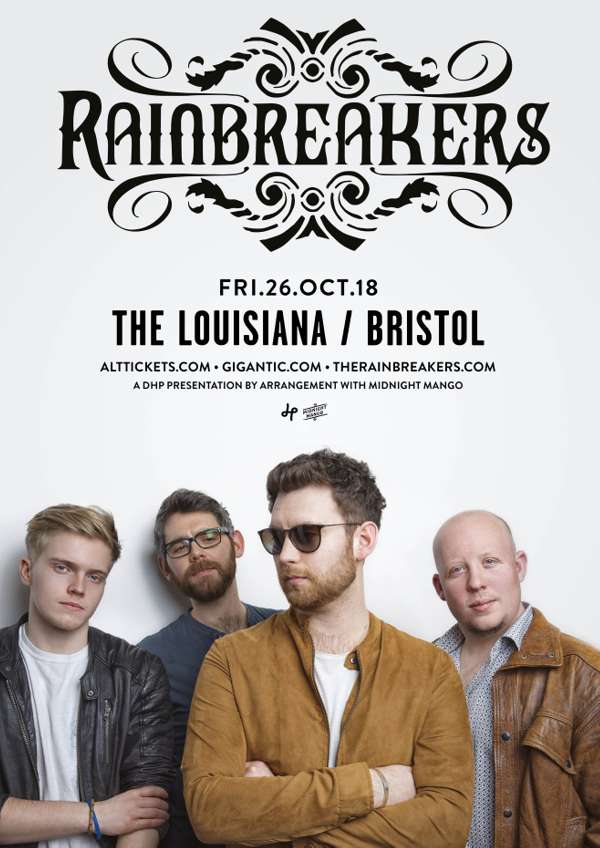 Rainbreakers
The four-piece have a refreshing approach to blues rock in a style which you don't hear too much of on the British blues circuit. Their sound channels the greats of the 60s and 70s, yet with a modern twist and a healthy dose of soul. "The Rainbreakers may hail from Shrewsbury, UK, but their groove tells you Austin, Texas." -National Blues Review-
Since forming in 2012, Rainbreakers have developed their sound into a fusion of dynamic elements, bridging the gaps between Blues, Rock, Pop and Soul, exemplifying a diverse and ever-growing musical palette. The songs can shift between gritty to delicate in an instant while the melodic and pop-like hooks combined with the raw and garage-esque backdrop forge an inspiring combination. Ultimately the band's outlook is to produce authenticity, may that be lyrically or sonically, to create a sound that truly represents themselves as well as their experiences.
The band's spirit draws significant influence from older artists such as Free and Humble Pie, yet expresses a strong connection with contemporary bands like The London Souls, The Black Keys, Monophonics and Gary Clark Jr. Although Rainbreakers evidently show a great fascination with sounds from the past, they are by no means purists. While recalling elements of their predecessors, the band has a clear foothold within the sounds of their own generation and strives to craft a melting pot of musicianship, ranging from soul melodies and psychedelic sounds to garage-rock riffs and R&B grooves.
Since the release of their "Blood Not Brass" EP, Rainbreakers have found themselves being featured extensively throughout a variety of media platforms. The Blues Magazine and Blues and Soul magazine have each celebrated the band's refreshing outlook on the blues/rock scene, while radio stations across the country and most notably The Paul Jones Show on BBC Radio 2 have all featured their songs respectively.
In the last year, Rainbreakers have reached new heights, with a string of live dates up and down the country supporting the likes of Corky Laing (Mountain), The London Souls, The Devon Allman Band and Laurence Jones. Their performance at this year's Great British Rock and Blues Festival in Skegness saw them win the crowd vote on the Introducing Stage and gain a place on the Main Stage at next year's festival. The bands efforts have even gained the attention of The British Blues Awards, who nominated Rainbreakers for The Barry Middleton Award for Emerging Artist 2016.
FRIDAY 26 OCTOBER
THE LOUISIANA Wapping Road, Bristol BS1 6UA Doors 7.30pm Ages 16+ (under 18s to be accompanied by an adult)
Advance tickets available from: www.alttickets.com www.gigantic.com www.bristolticketshop.co.uk
Line Up
Rainbreakers are a four piece rock outfit that create a raw and hard-hitting sound. Influences can be heard from a range of different styles that echo back to the stylings of the late 60's and 70's, layering a combination of rock, pop, blues and soul.
Holding on to tradition, but by no means purists, Rainbreakers indicate a fascination with older artists such as Free and Hendrix, yet the band draws significant influence from the contemporary sounds of The Black Keys, Gary Clark Jr and Monophonics.
Since their formation in 2012, Rainbreakers have played countless amounts of shows at club venues and festival stages, resulting in the development of their own sound that truly represents themselves as well as the experiences they share. The band's impassioned and fervent live performance has given leverage to acquire a strong and honest following in their hometown and across the country.
Alongside the release of their latest EP 'Blood Not Brass', Rainbreakers are already set to perform with Chantel McGregor and Laurence Jones on their 2015 UK Tours as well festival bookings including Stourbridge Blues Festival, Farmer Phils and many more.
View Profile