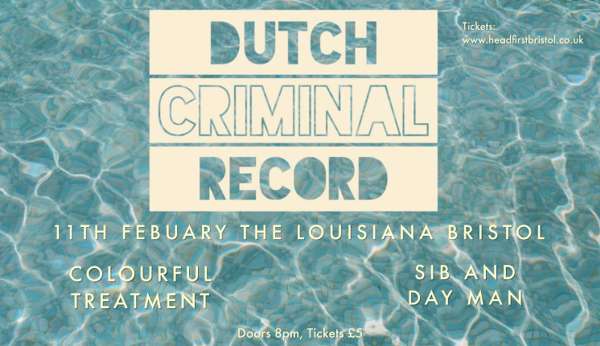 DCR's BIGGEST HEADLINE IN BRISTOL TO DATE - gonna be a big one. Tickets : £5 Support from: Colourful Treatment + Sib and Dayman
We are Dutch Criminal Record an indie surf band from Portsmouth, UK. We write and perform our own unique brand of upbeat summery tunes full of interlinking riffs, melodic vocals and blooming harmonies. Recognition from BBC introducing and BBC 6 music, as well as over 1.2 million Spotify streams has created a real buzz and after a successful year cementing ourselves on the Bristol scene we are back with our biggest headline to date.
Soundcloud: https://soundcloud.com/dutch-criminal-record/wasted-time
Spotify: https://open.spotify.com/artist/5h6KJPKB8cSVJTWZhKAZoT
Facebook: https://www.facebook.com/DutchCriminalRecord
Twitter: https://twitter.com/DCRlads
Instagram: https://www.instagram.com/dutchcriminalrecord/
Supports:
Colourful Treatment - We are Colourful Treatment, an indie band based in Bristol, playing a vibrant swatch of melancholy love songs and punchy feel good tunes, channeling such influences of Joy Division, Oasis, the Magic Gang.
Facebook: https://www.facebook.com/colourfultreatment/
Bandcamp: https://colourfultreatment.bandcamp.com/
And
Sib and Dayman - Alternative 4 piece conceived in Bristol "It's like optimistic goth music, it's weird, I like it"- Stew Jackson (Massive Attack) "Made me tingle from head to toe, yum yum" - Munkiran Deo