The Menstrual Cramps
+ MARTYRIALS + The SinicTones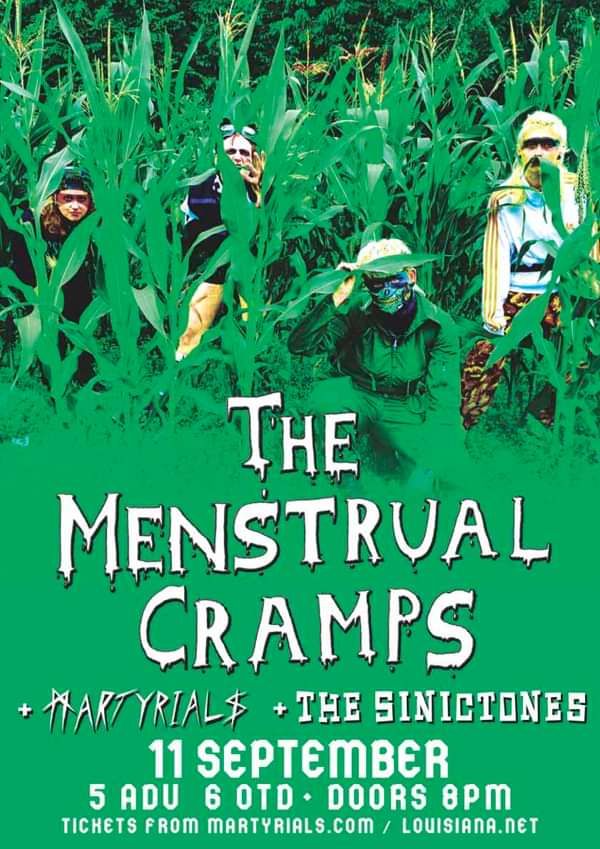 THE BAND EVERYONE'S ANGRY ABOUT RETURN TO BRISTOL FOR A HEADLINE SHOW AT THE LOUISANA THIS SEPTEMBER
Formed in a broken bedroom in Bristol, on the verge of homelessness, and rife with anger, The Menstrual Cramps were born. Politics on the brain and injustices surrounding them, they jumped ship to a dive in London and recorded their debut album 'We're Not Ovaryacting'. This summer they returned bigger and better with their new album, Free Bleedin, which features revolution demanding song 'The Smash', grrrl power anthem 'No Means No', and 'Idols' which approaches the art world's problem with abusers, demanding us to stop idolising our idols and to instead 'Scrutinize Their Trivial Lives'. With their mission to 'Make Girls Feel Good', empower all womxn and end inequality and injustices across the world, The Menstrual Cramps aren't here to take your shit. https://www.facebook.com/TheMenstrualCramps/
MARTYRIALS Martyrials produce a ruthless blend of Synth-driven Glam and biting political Punk rock. Often compared to Cardiacs, MARTYRIALS follow in the vein of keyboard centric Punk and New Wave bands like The Stranglers, The Screamers and DEVO whilst retaining an air of attitude akin to Ramones and the erratic energy of bands like System Of A Down and Mindless Self Indulgence. www.martyrials.com
THE SINIC TONES The SinicTones are a Bristol-based 3 piece band with fuzz-riffed guitars, driving ear-candy bass lines, catchy choruses and an authentic 60' s garage sound. It's surf, but not as you know it! https://www.facebook.com/thesinictones.band/
£5 adv, £6 otd. Doors at 8pm
Line Up
The Menstrual Cramps
High energy psychedelic synth-punk, the ruthlessly creative and creatively ruthless Martyrials [MARR•TEER•EELS] produce an undeniably explosive blend of all killer, no filler Rock and Roll. Punk ethics meet space-delay driven psychedelia like if the Ramones had synthesizers or if System of a Down met the B-52's and often compared to the erratic sounds of Cardiacs. Formed in 2015 and releasing their second studio album this year, the exciting live shows of the Martyrials are not something to be missed.
"OUTSTANDING! one of the best gigs i've been to in years" - Rich Craven, Founder of Swindon Shuffle
"What punk would have sounded like if it had burst onto the scene after the advent of affordable Synthesizers" - Dave Franklin, The Swindonian.
View Profile
The SinicTones