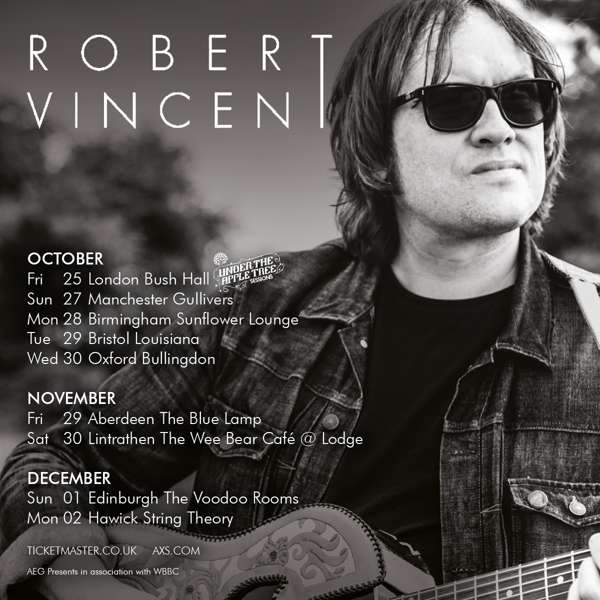 Robert Vincent is an award-winning singer/songwriter from Liverpool - having received the inaugural Emerging Artist Award from "Whispering" Bob Harris in 2016 and UK Americana Music Association's UK Album of The Year in 2018.
Seeing him play at the Bluebird Café's Bluecoat event, the legendary broadcaster immediately invited Robert to record an Under The Apple Tree Session in his home studio and for his BBC Radio 2 "Country" show - describing him as "absolutely magnetic".
Vincent credits his story-telling style of songwriting to his upbringing – where his formative years were spent listening to his father's record collection including Emmylou Harris, Charlie Rich and Waylon Jennings, plus his older brother's introduction to Pink Floyd.
In 2013, he released his debut album, Life In Easy Steps - with the title track receiving national airplay from Janice Long and Radcliffe & Maconie – and he's subsequently toured the UK supporting Paul Carrack, James Blunt, Squeeze and The Pretenders at Royal Albert Hall. Recorded in his hometown and mixed in Nashville by Grammy Award-winning producer Ray Kennedy, his second full-length release I'll Make The Most of My Sins sees him sited by The Guardian as one the UK's top Americana artists.
Robert hit the road in Spring for Hearts of Glass Tour supporting Grammy nominated singer/songwriter Beth Nielsen Chapman and closed the show in style with his performance on The Old Grey Whistle Test: For One Night Only on BBC4 – which resulted in his album soaring to #1 in iTunes Country chart toppling Chris Stapleton off the top spot. For his follow-up album (due Spring 2019) he'll be working with world renowned Brit Award-winning producer Ethan Johns (Ryan Adams, Paul McCartney, Ray LaMontagne).
In 2018, he's been on the supporting bill for his hero Roger Waters in Hyde Park at British Summer Time and joined "The Titan of Twang" Duane Eddy in October for two very special UK shows to celebrate his 80th birthday - before undertaking his own headline tour across UK in November
Line Up
Robert Vincent is an award winning singer songwriter from Liverpool.
His sound has been described as ;
"Compelling and introspective LoFi Alt Country meets Folk" (fatea)
"If you're seeking out a contemporary influence think Jason Isbell" (3 chords and the truth) "What Oasis might sound like recast as brooding Americana Blues" (folk radio uk) "Vincent slides easily between singer songwriter mode to full band profile"( Rocking Magpie)
The title track from his debut album "Life in Easy Steps" was play listed on radio 2 and was well received by the reviewers back in 2013 and since then he has been on the road playing a mixture of solo and band shows, supporting Paul Carrack on 3 UK tours and also a run of shows with Squeeze. This has helped Vincent again a loyal fan base across the UK.
A turning point for Vincent's career came when playing at a songwriters event in Liverpool . On the panel was "Whispering" Bob Harris who was impressed with what he heard
" I am so impressed with Roberts music. Strong songs laced with blues and country he is the real deal" Following their meeting Robert was invited to record a live session for Radio 2 and Bob Harris chose him as his "emerging artist" at the inaugural UK Americana awards 2016.
Following on from this Robert was signed to Brighton based label At The Helm Records and was invited by the executive director of the Americana Music Association Jed Hilly to play at the Americana Awards showcases festival in Nashville Tennessee. Here he continued to make an impression and was named by Rolling Stone Magazine as one of the top 20 acts they saw at the festival under the heading "Best Brit".
The trip also saw him signed to Last Chance Records for a US release of his new album "Ill Make the Most of my Sins".
"Ebullient Evocative and Entertaining" is how the latest record as been described by Fatea Magazine..
This second album was recorded in Liverpool with members of his band and mixed over in Nashville with Grammy winning producer Ray Kennedy (Steve Earle)
So far the reviews have been great . An article in The Guardian sites him as one of the UK artists flying the flag for Americana in the UK, Country music magazine gave it 5 out of 5 stars Specialist radio shows such a Bob Harris Country, Ralph McLean on BBC radio Ulster said of Vincent "A sublime songwriter I think he is an incredible talent" as well as lots of online radio plays and press in the music blogs
"Robert Vincent is a gifted songwriter making music that will resonate well with the cultured ear"(3 chords and the truth"
"Robert Vincent writes songs you would associate with master craftsmen singer songwriters from the Americas not a young man from Liverpool at the start of his career" Fatea.
Early Feburary has seen Robert and full band supporting Turnpike Troubadours from Oklahoma on their first UK tour which has been sold out . There are plans for a summer of festivals and a full band headline tour both here and stateside to coincide with a US release later in the year.
View Profile