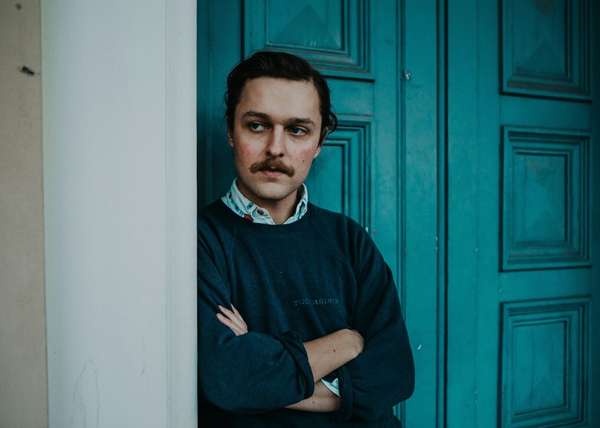 Northern Irish experimental folk songwriter and producer Joshua Burnside is something of a regional anomaly. With a brooding, powerful sound echoing artists of places afar and time long gone, his enthralling craft defies local comparison in striving towards an aesthetic as much as visual as it is sonic. Balanced with a diverse palette of sounds, Burnside deftly blends alt-folk and elements of the Irish folk song tradition with South American rhythms and Eastern European influences, whilst introducing synthetic and found-sounds, synths loops and crunching beats to create a stormy world that shifts and swirls perspective like a lingering lucid dream.
10 Million streams on Spotify Platform Press Winner of the NI Music Prize 2017 Performed at BBC 6 Music Biggest Weekend Fringe festival 2018, Belfast Extensive radio play and support from BBC Radio 1 and 6 Music; Guy Garvey, Tom Robinson, Tom Ravenscroft, Lauren Laverne, Huw Stephens and Phil Taggart. Featured in The Sunday Times, The Irish Times, Belfast Telegraph, Daily Mirror, Hot Press, Golden Plec, The Thin Air.
Line Up
'Rumbling, brooding, powerful, magnetic' - The Irish Times
Joshua Burnside is an experimental folk artist based in Belfast, and the most recent recipient of the Northern Ireland Music Prize for his debut album 'EPHRATA', released last year. The album was highly praised by the The Sunday Times, Irish Times, State and The Thin Air as well receiving huge support from BBC 6 Music DJ's Lauren Laverne, Tom Ravenscroft, Guy Garvey, and BBC Radio 1's Phil Taggart and Huw Stephens.
EPHRATA has been praised for lyrics which blend local history with surreal imagery and apocalyptic themes, as well as the fusion of south american rhythms with traditional Irish melodies and instrumentation.
A political satirist is assassinated, two shellshocked siblings hallucinate a zombie apocalypse, and a terminally ill physics professor turns to god, these are the kind of stories that are laid out, tied up, unravelled and strewn together in 'EPHRATA'.
Written in a burst of a few weeks whilst living in northern Colombia, the songs deal with a diverse range of themes, from PTSD and technophobia, to larger questions about time, love and death in the modern age. Balanced with an even more diverse palette of sounds, from south american rhythms, banjos and accordions to crunching beats, found-sounds, loops and whistling, he has created a stormy world that swirls and shifts your perspective like a dream that lingers on long after you've woken up.
'Understated and exaggerated, thought-provoking and reflective, constantly keeping the listener on their toes' - Golden Plec
Prodigious, eclectic, original, unpredictable, well-produced... Stop me when the kettle's boiled' - Cultureni
'Hands down one of the most-forward thinking folk artists from these shores' - The Thin Air
'There's an indefinable quality and charm to Joshua Burnside's debut' - The Sunday Times
'It makes you glad to have a pair of working ears' - Phil Taggart, BBC Radio 1
'It is an endless adventure, a record that won't tire, such is the depth and scope of what you hear' - Daily Mirror
'Dynamic and wide ranging in scope but stands as a complete and focused work. The end result is a triumph' - Chordblossom
View Profile