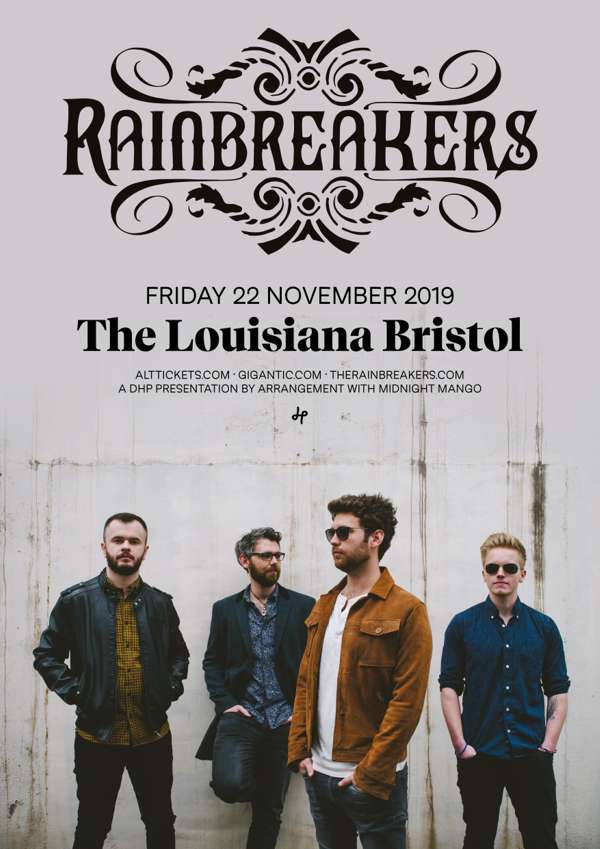 DHP Family proudly present Rainbreakers live at The Louisiana Friday 22 November
Rainbreakers create tasty and soulful melodies within a garage-rock style. Clearly having a foothold within the sounds of their own generation, they are quickly building a reputation for being one of the freshest live bands to surface from the UK.
Crafting their sound into a fusion of dynamic elements, Rainbreakers bridge the gap between blues, rock and soul. Showcasing their original material using gritty guitars and soulful vocals, their songs shift from heavy to delicate in an instant while remaining highly emotive and pulling everyone in around them.
Line Up
Rainbreakers are a four piece rock outfit that create a raw and hard-hitting sound. Influences can be heard from a range of different styles that echo back to the stylings of the late 60's and 70's, layering a combination of rock, pop, blues and soul.
Holding on to tradition, but by no means purists, Rainbreakers indicate a fascination with older artists such as Free and Hendrix, yet the band draws significant influence from the contemporary sounds of The Black Keys, Gary Clark Jr and Monophonics.
Since their formation in 2012, Rainbreakers have played countless amounts of shows at club venues and festival stages, resulting in the development of their own sound that truly represents themselves as well as the experiences they share. The band's impassioned and fervent live performance has given leverage to acquire a strong and honest following in their hometown and across the country.
Alongside the release of their latest EP 'Blood Not Brass', Rainbreakers are already set to perform with Chantel McGregor and Laurence Jones on their 2015 UK Tours as well festival bookings including Stourbridge Blues Festival, Farmer Phils and many more.
View Profile