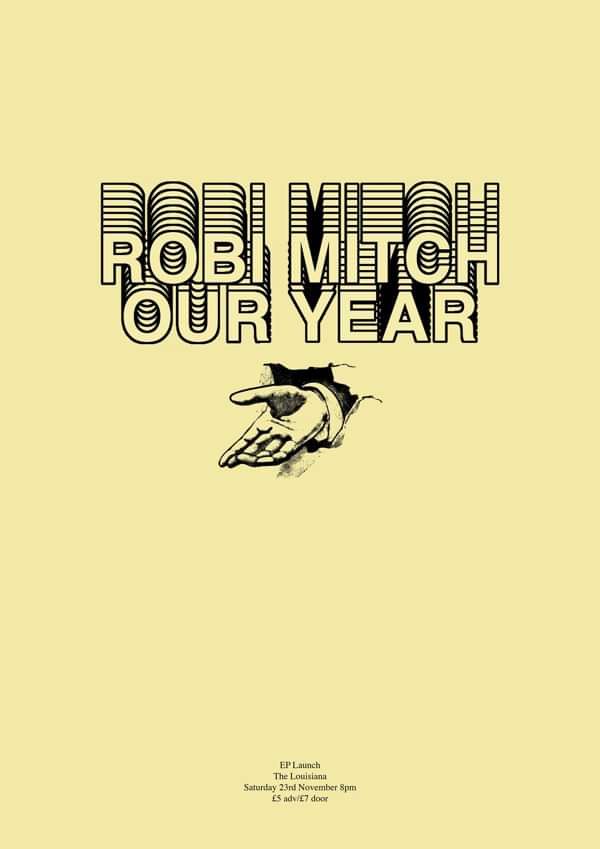 British singer-songwriter Robi Mitch is a seasoned performer, having toured in Asia, America and Europe, and played numerous gigs across the UK. He had a folk music upbringing, but has since fronted garage rock bands in his hometown of Bristol, and been a pop session player in Taiwan. Robi's ever-evolving live band features some of Bristol's finest musicians, delivering spacey grooves, wig-out jams and spine-tingling moments that form an unforgettable live experience.
Our Year is Robi's debut EP, set to be released on 25th November 2019. from 70s psychedelia and global music scenes, landing somewhere in the indie rock / lo-fi pop realm. Our Year was conceived in the summer of 2018: the UK was in the throes of a heatwave, World Cup fever had taken hold, and a strange, euphoric optimism surged through Britain, sweeping the public consciousness away from the dissonance of Brexit and environmental catastrophe. The songs respond to the bittersweet, heavily nostalgic mood that pervaded both public and personal spaces in the aftermath of that summer, giving voice to one certainty in the midst of many unknowns: it was all too good to last. Nevertheless, the EP is infused with a subversive joy, such as when Robi whimsically imagines life as a narwhal, or when he proclaims that 'I could still smile inside / when the dream finally died'.
TICKETS £5 advance £7 on the door
Line Up
Robi Mitch (BRISTOL, UK): cassette culture, genre mashups, beach bbqs, car stereos, drum machines and juice boxes.
View Profile