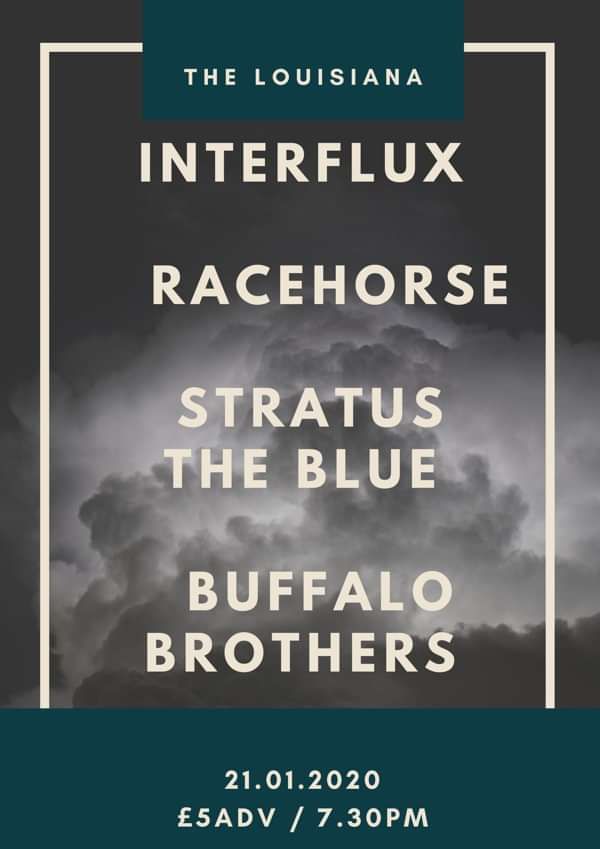 Doors 7.30pm Buffalo Brothers 7.40 - 8.10 Stratus The Blue 8.25 - 8.55 Racehorse 9.10 - 9.40 interflux 9.55 - 10.25
Line Up
InterFlux are a young, fertile, two-man band forged in the eternal flames of boredom in a small seaside town in Wales. With nought but the swirling thunder of bass, the electric squeal of guitar and the unrelenting pounding of Conor's right foot, InterFlux broke free from the cold clammy grasp of small town syndrome; Ploughing a path across the UK and forcing sonic glory into the ear holes of anyone lucky enough to be alive at the same time as them.
The pair first met when Birmingham born bass player Ben Saunders accidentally found himself living in Wales, not far from guitarist and lead vocalist Conor Page. After a night spent under-age drinking in a bus stop the two realised they shared a mutual interest in philosophy, politics, making loud noises and not getting a proper job. The only logical conclusion was to form a band and get the hell out of the tiny town they were in. Conor came armed with a pungent lyrical ability, smooth vocals and alternative guitar tone, influenced by Radiohead, Franz Ferdinand and The Dandy Warhols. Ben's Motorhead inspired heavy bass lines, Primus influenced funk and Sex Pistols-esque grit melded with Conor's style to create a sound not quite like any of the above. With drummer the great Gethin Beeney in tow they fled to Bristol, playing to anyone who'd listen. Shortly after a disagreement with a landlord regarding rent and how the band hadn't paid any, the band were forced from their home and scattered across the UK like smarties from a tube on a waltzer; Conor to Essex, Ben to Wales and Gethin to Bournemouth. Then, after the tragic death of the great Gethin Beeney, Ben and Conor clawed their way to Bath with the soul of their former drummer now trapped in Conor's right foot.
InterFlux span across many genres, completing them as they go; They're Indie, if indie music grew a pair of balls; Punk played by proper musicians; Rock with more than 4 chords; Jazz if Jazz calmed the fuck down with all the trumpets and shit; Metal without the hairy virgins in cargo shorts; Folk without the hairy virgins in cardigans; Country music without God or Americans there to ruin it. InterFlux experiment with all they have at their command, aiming at no genre in particular and generally summing it up with the irritatingly vague description of "Alternative". Whether they're singing anti-political melodies through a megaphone or preaching social commentary atop a poly-rhythmic gospel, InterFlux keep a firm grasp on a distinctive identity.
With an EP self-recorded in toilets, cupboards and derelict buildings across the land using Ben's "Flat-Pack Studio", InterFlux has a powerful lust for more. Grabbing up as many gigs as they can get there hands on, they hope to acquire a larger following and a record label in order to further their plans of world domination. With enough songs already written to last millennia, the band wants nothing more than to simply be able to play music without having to pour pints and wash dishes in between.
"Not as bad as they used to be."-Conor's Mum.
View Profile