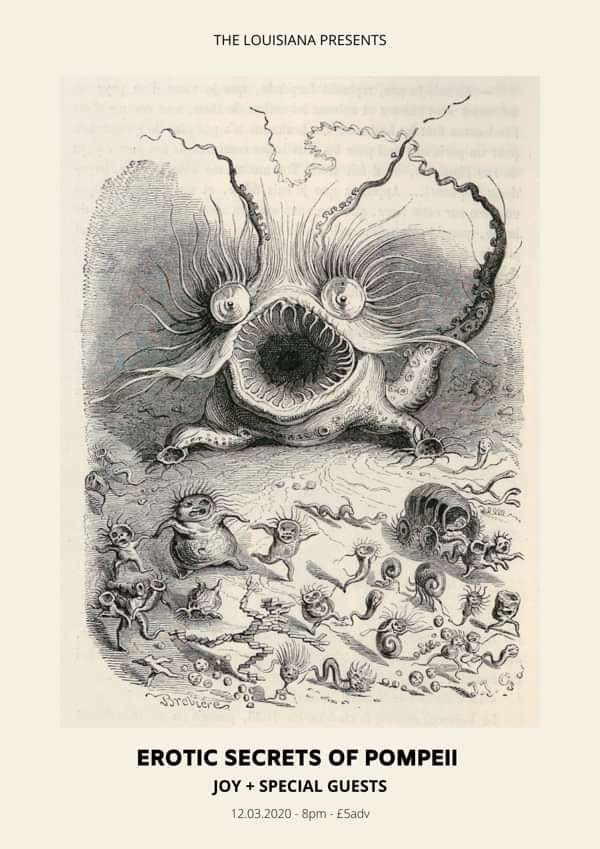 12th March throughout history....
1946 - Judy Garland gives birth to Lisa Minnelli 1959 - Hawaii becomes the 50th state in the U.S. 1980 - John Wayne Gacy is found guilty of 33 murders *** 2020 - Erotic Secrets of Pompeii bring their apocalyptic art rock to The Louisiana, Bristol ***
Come along and make history!
The deliciously disturbing Erotic Secrets of Pompeii play a twisted variation of "rock" music that balances key descriptors from the Futurist manifesto (cold, mechanic, angular) with red hot televangelist fervour. Their music tilts from industrial to world, from electro to punk, and equates to something that is not quite any of the above. Like an exorcism at the disco, they'll have you dancing in horror.
FFO: Nick Cave, Talking Heads, IDLES, Daughters, Gary Numan, Captain Beefheart.
With support from the beautifully raucous Joy, who augment the evening with their high-octane stage antics and deafening delirium of post-punk squalls and grungy noise pop.
Line Up
Erotic Secrets Of Pompeii