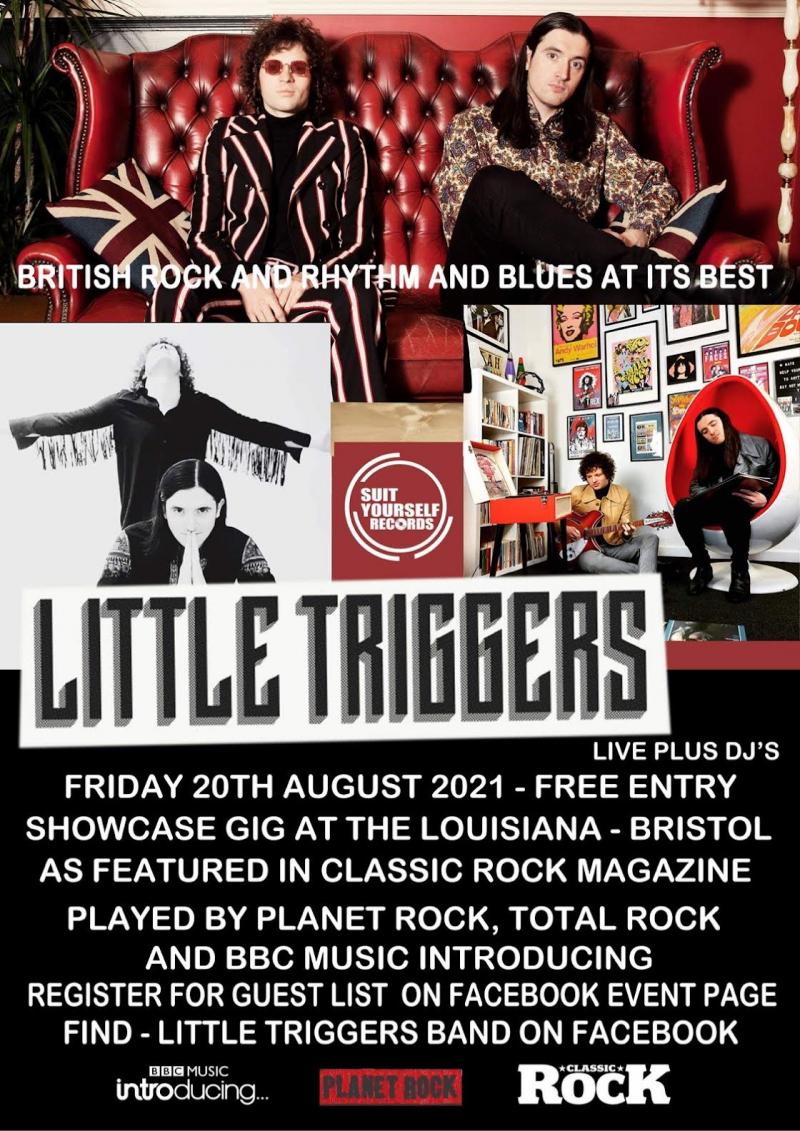 Little Triggers Live plus DJ's - Free Entry
The Louisiana, Bristol, GB
Friday, 20 August, 2021
7:30pm
free event
16 plus, under 18 must be accompanied by a responsible adult.
Get Tickets
suit yourself presents : Little Triggers Live plus DJ's - Free Entry @ The Louisiana Bristol
Little Triggers offer hope for something fresh, original, but more importantly, for something bold and brash in today's music scene.. Here is a band unashamed of brandishing the rock n' roll label, bringing a raw quality to the genre that is much missed in modern music. 
 The first single from their debut album exploded onto the airwaves in February 2019, being played five weeks in a row by Wyatt Wendels on Planet Rock Radio. So Fine was also picked up by Spotify's curators and landed on two of their biggest playlists, knocking up over 30,000 streams. The album, released on 24 May, is reviewed in Classic Rock magazine alongside a feature article on the band and a track on the giveaway CD to its 50,000 readers.
 The band is a formidable live force. Led by singer and guitarist Tom Hamilton- a frontman who could easily find his way into future pop textbooks as one of rock n' roll's infamous kindred spirits- Little Triggers have mastered the rock n' roll art form whilst living up to the demands of its lifestyle. Choosing to evade the tiresome indie platitudes of their contemporaries, Hamilton and co have mastered the fine art of balancing nostalgia with innovation.
 The band absolutely stormed a festival in France last Summer with stage invasions, dancing girls, and diving into the audience which went totally wild. They were invited back later last Summer and are heading to France again for a seven gig tour the day after the album is released. It is then back to the UK for festival slots in early July, supporting The Feeling in Suffolk followed by an appearance at the Great British R & B festival at Colne in Lancashire on August Bank Holiday Saturday. It is fitting that Little Triggers are rock n' roll's greatest hope for the future. (Richard Bradshaw, The Culture Journal)
 But, in Rock, as in life, sometimes less is more. Liverpool rockers Little Triggers found themselves at a crossroads after the departure of two members. Deciding to carry on as a two-piece, vocalist/guitarist Tom Hamilton and drummer Jay Radcliffe doubled down on the band's strengths - frenetic energy, fuzzy blues licks and rollicking pop hooks - and headed into the studio to rebuild their sound with the thrillingly base elements of rock n' roll. 
 Their comeback single, Bang, was
the first taste of a new era for the band - and offers up a hard rock rollercoaster of meaty riffs and singalong melodies.
 "This is a nihilistic take on the old 'good love gone bad' story," explains livewire frontman Hamilton. "The lyrics don't reveal how the relationship got into this state, but the protagonist is in a situation where he feels he has no option but to have it out with his ex with a gun in his hand. He knows too well how that's likely to end up - bang bang, out go the lights! He is still in love but cannot see any other way out."
 Rock media have been quick to spot Little Triggers' huge potential, with Classic Rock Magazine featuring them as both a coveted High Hopes new band and awarding them two Tracks Of The Week, and Planet Rock, Total Rock and BBC Introducing Radio spinning their singles in 2019. Spotify editors also gave their seal of approval, with prominent placements on their All New Rockand Rock The World official playlists. 
Show starts at 7:30pm.
Line Up
Little Triggers Live plus DJ's - Free Entry