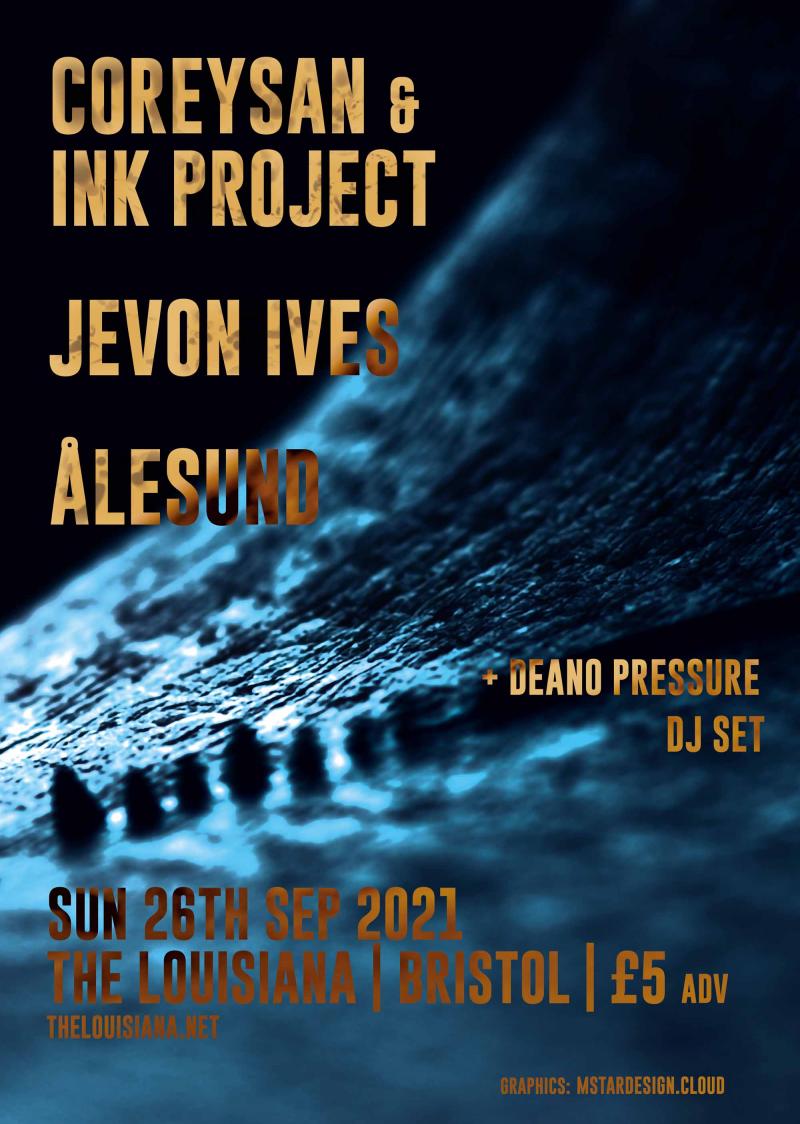 CANCELLED- Coreysan / Jevon Ives /Ålesund 
The Louisiana, Bristol, GB
Sunday, 26 September, 2021
7:30pm
£5Adv
16 plus, under 18 must be accompanied by a responsible adult.
Get Tickets
The Louisiana presents: CANCELLED- Coreysan / Jevon Ives /Ålesund  @ The Louisiana Bristol
DUE TO UNFORSEEN CIRCUMSTANCES, THIS SHOW HAS BEEN CANCELLED. ALL TICKETS WILL BE REFUNDED.
Coreysan & Ink Project
Ink Project is producer Jez Lloyd's collaborative project with singer/songwriter/producer/bassist Coreysan - experimenting with various styles from song-based psychedelic soul, future dub, broken beat, down-tempo/trip hop and global music. Earthy bass and soulful beats with raspy, soothing vocals and a storyteller approach covering powerful, universal lyrical themes.
Read more here:
https://blindcolourmusic.tumblr.com/artists-coreysan
Jevon Ives
Jevon Ives found his passion for singing, song writing and producing around ten years ago, bringing all these elements together to create a uniform and highly personal sound crafted exactly to order. From the instrumentation, to the melodies, lyrics and atmosphere, each is created to create the descriptive and conceptual Soul-RnB hybrid that is his music, and the result is truly unique.
Jevon's self-produced 14 track album 'Worship the Sun', was released on 'Mango Juice Music', and the collection of tracks brilliantly showcases his versatility in style. The album features some great collaborations with other like-minded musicians such as Astrid and Charli Brix. Since then he has featured on tracks with artists such as the great wordplay artist Rider Shafique, and a vocal drum and bass track released on Goldie's label, Metalheadz, with producer Phase.
More here: theactions.uk
Ålesund
Ålesund return with A Thread In The Dark a follow up to 2020's All Hail to Your Queen. Following the untimely curtailing of their European Tour in
Spring 2020 thanks to the COVID-19 outbreak, they came back home and used the lockdown as a time to write, demo up new ideas and record a four track EP. Throughout the EP Alba's intoxicating vocals take on totally different auras that interchange based on the musical landscapes they're placed against; soaring atmospheric synth-laden soundscapes, shimmering guitars and tantalising grooves.
More here: http://www.alesundmusic.com/
With special guest DJ Deano Pressure
Show starts at 7:30pm.
Line Up
CANCELLED- Coreysan / Jevon Ives /Ålesund