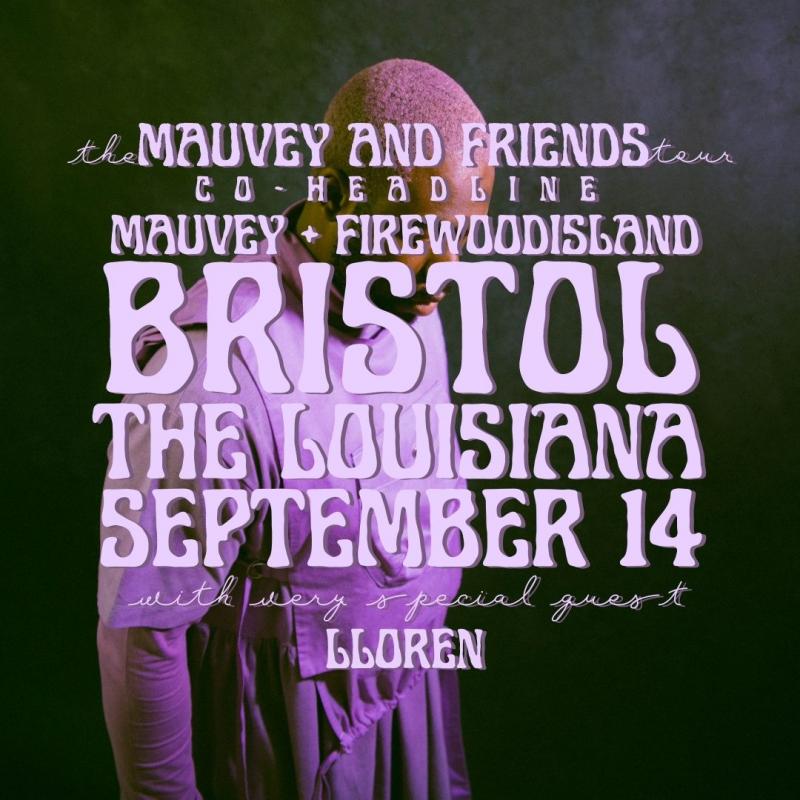 Mauvey and Friends tour with Firewoodisland
The Louisiana, Bristol, GB
Tuesday, 14 September, 2021
7:30pm
£12adv
16 plus, under 18 must be accompanied by a responsible adult.
Get Tickets
The Louisiana presents : Mauvey and Friends tour with Firewoodisland @ The Louisiana Bristol
Born in Ghana, West Africa, and raised between the U.K. and Vancouver, Canada, artist and songwriter, Mauvey, filters his unique batch of alternative pop music with hip hop, R&B/soul always alongside his message: Love. "My message will always be Love" says Mauvey, who has designed his projects to distribute Love through the creative narratives of intentional songwriting, intelligent melody, and hypnotic beat.
Mauvey has been influenced by artists like Michael Jackson, Kanye West, Oumou Sangaré, Prince, Childish Gambino, Labrinth, NAO, The Weeknd, and Andre 3000, as he goes on to state: 'I am inspired by artists who made contributions so significant that they or their music will never be forgotten".

A passionate Mauvey says, 'If my entire music career is a giant book about the rigours of Love, the ups, the downs, the highs and the complicated lows, I'd have done my job of distributing Love', he goes on to say, 'I want to be clear about what I'm talking, singing and rapping about - no games - I don't know everything, but I know that Love is everything, there's no better subject."

This Spring 2021, Mauvey proudly signed with the fiercely independent Canadian label, 604 Records.
Mauvey has been well supported by Huw Stephens and Gemma Bradley's BBC Music Introducing on Radio 1, including being Mercury Prize nominee Georgia's 'pick'. In May 2021, Mauvey took part in BBC Radio 1's Big Weekend performing his track 'Pillow' live with artist and friend, Lloren. Mauvey has gained backing from Jamz Supernova on Selector Radio (British Arts Council). In Summer 2020, Mauvey was awarded by the MOBO Help Musicians Fund.
'The singer-rapper-songwriter is a breath of fresh air with his unforgettable authenticity projected in his music.' - Notion Magazine
Mauvey's powerful lyrical content is unashamed, he isn't perfect, and he's not trying to be. Love is his mission, not just words in songs. The themes are not always black and white, at times, they're a bit Mauvey.
ABOUT FIREWOODISLAND: 
Firewoodisland is the alias of Bristol based Norwegian/Welsh multi-instrumentalists and songwriters Stian Vedøy and Abi Eleri. Their emotive and dynamic vocal harmonies together with the morphing of organic and digital instruments, creates an atmospheric soundscape that is moving yet striking.
What started as a solo project is now the joint creative project of artists, multi-instrumentalists and songwriters Stian Vedøy and Abi Eleri . Hailing from a windswept west coast island of Norway, Stian met Abi after moving to Cardiff, to study for a master in music production. Abi, was at the time studying illustration, and the two paired up to form the band, releasing their debut EP, in 2014. Their latest sophomore album (2020) was a turning point for Firewoodisland, as the duo finally felt that they had come into themselves creatively. With all audio and visual being created in their own home, you pick up a little piece of their soul when you experience Firewoodisland's work.
Inspired by the likes of Bon Iver, Sigur Ros and Of Monsters and Men, Firewoodisland's distinctive sound, christened 'Mountain Pop', is a perfect blend of organic and digital elements. 2019 saw the duo add cellist Simon Walker, with the occasional additional session musician, to their live outfit and they deliver an epic performance through the use of multi-layering and looping, reminiscent of James Blake or Jack Garratt.


ABOUT LLOREN:

As a multi-instrumentalist, songwriter and producer, Lloren has been working in the industry for over 10 years.
With a rich tonal vocal and emotive melodies, Lloren uses cinematic and contemporary-inspired compositions and storytelling lyrics to deliver an infectious sound.
In 2018, Lloren appeared on The Voice UK, placing third which enabled a fantastic platform to expand on her performances and fanbase.
In 2019, released her debut single 'Into the Fire', which accumulated over 100,000 views and sparked the attraction of A&G songs publishing, who she signed with later that year.
In the last year, Lloren has found success with her published songs featuring on Television in both the UK and internationally and joined American artist Fleurie, on her European tour.

Now working on an EP set to release early next year, Lloren is certainly one to watch.
Show starts at 7:30pm.
Line Up
Mauvey and Friends tour with Firewoodisland