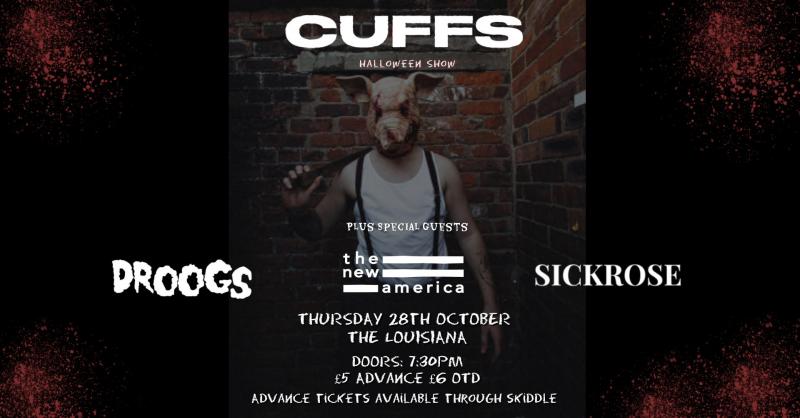 Cuffs Halloween Show with Special Guests
The Louisiana, Bristol, GB
Thursday, 28 October, 2021
7:30pm
£5Adv
16 plus, under 18 must be accompanied by a responsible adult.
Get Tickets
The Louisiana presents:: Cuffs Halloween Show with Special Guests @ The Louisiana Bristol
Join Cuffs for this huge Halloween Line up on Thursday 28th October 2021! With Special guests Droogs, The New America & SickroseCuffs - The punks who call themselves
CUFFS will inspire you to take action, question the system around you, and have a damn good time while you do it. With drilling riffs, heavy beats and lyrics fuelled by angst and social frustration.
Droogs - Three mates from Bristol who love to make sweaty noise, make you sing and make you laugh.
New music coming soon!
The New America - Force feed a glitchy algorithm Gang of Four, Interpol, Football FC, and Fela Kuti records. Replace the frontman with a deranged cockney. Add funk dust and you have created The New America. Bristol's premier blender-core garage rock band is just as lovable as they are sweaty. And believe you me, they are sweaty. Bands like Dead Naked Hippies, Web, and Football FC performed with CAUTION: WET FLOOR signs lining the stage after TNA's opening sets for them.
Sickrose - We are a post punk / psychedelic band from Bristol called SICKROSE taking inspiration from bands such as Black Sabbath and The Blinders.
16+ under 18's must accompanied by an adult.
Show starts at 7:30pm.
Line Up
Cuffs Halloween Show with Special Guests