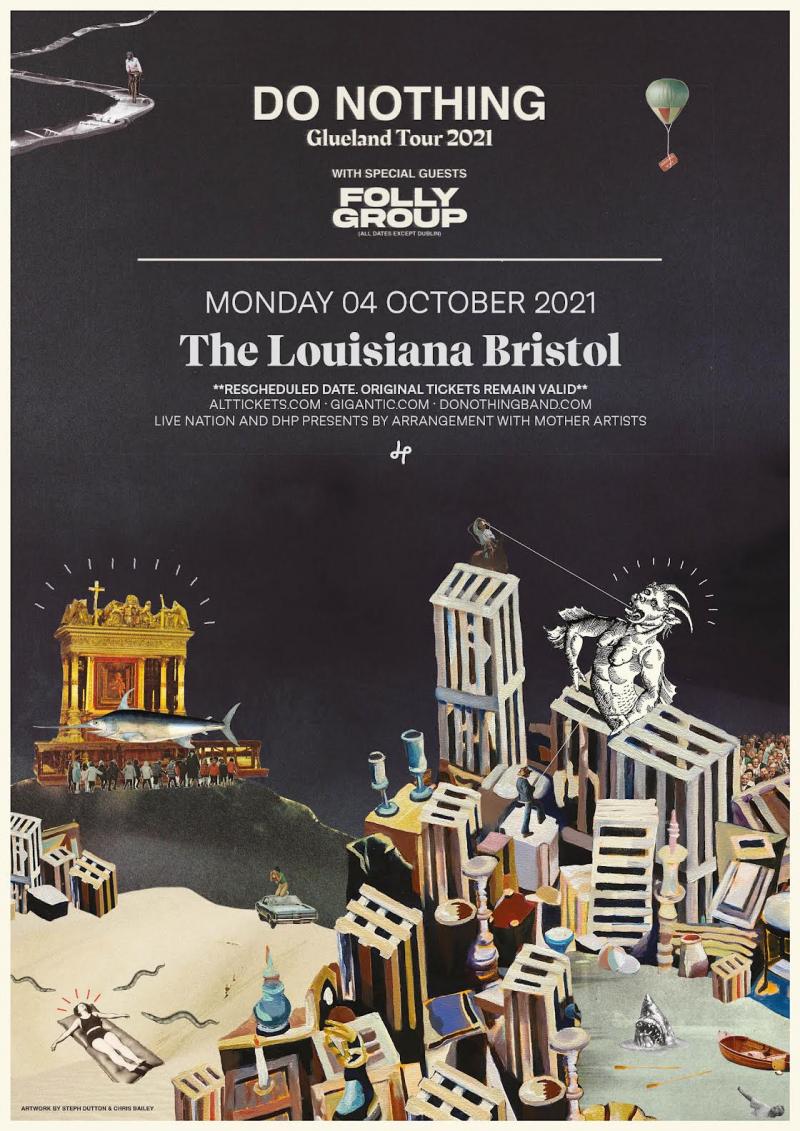 DO NOTHING + Special Guests
The Louisiana, Bristol, GB
Monday, 4 October, 2021
7:30pm
£10 Adv
16+ only, under 18's must be accompanied by a responsible adult
Get Tickets
dhp presents: DO NOTHING + Special Guests @ The Louisiana Bristol
"There's something weird going on out there," remarks Do Nothing's Chris Bailey on 'Glueland', the title-track from the Nottingham bunch's second EP. It's a prophecy he fulfils himself over the following five songs as he cracks open the door to a squelchy, sticky world populated by eels and lizards, swordfish, and someone called 'Screaming Blue Bill', as its eerie soundtrack builds on the promising post-punk this outfit are already dab hands at. 
'Glueland' arrives almost exactly a year after Chris et al's acerbic debut 'Zero Dollar Bill', which cemented their burgeoning rep for making clamorous alt-rock with Chris' vocals the focus, near-shouted as though from some half-smart sceptic down the pub. That EP swaggered with a looseness that comes from road-testing, from giving the songs room to flex and grow organically in front of audiences, where they ultimately belong.
'Glueland', as you might have guessed, wasn't afforded that luxury. Conceived and recorded since the first Covid lockdown, this EP found Chris "making the songs as songs", holed up in a basement home studio, a long way from gigging in every sense. Finding the motivation to create wasn't always easy, he says. "Getting into a good head-space is hard because it's not exactly the vibiest time. There's not an overflowing well of inspiration in my world at the minute. You just do the best you can!"
Show starts at 7:30pm.
Line Up
DO NOTHING + Special Guests