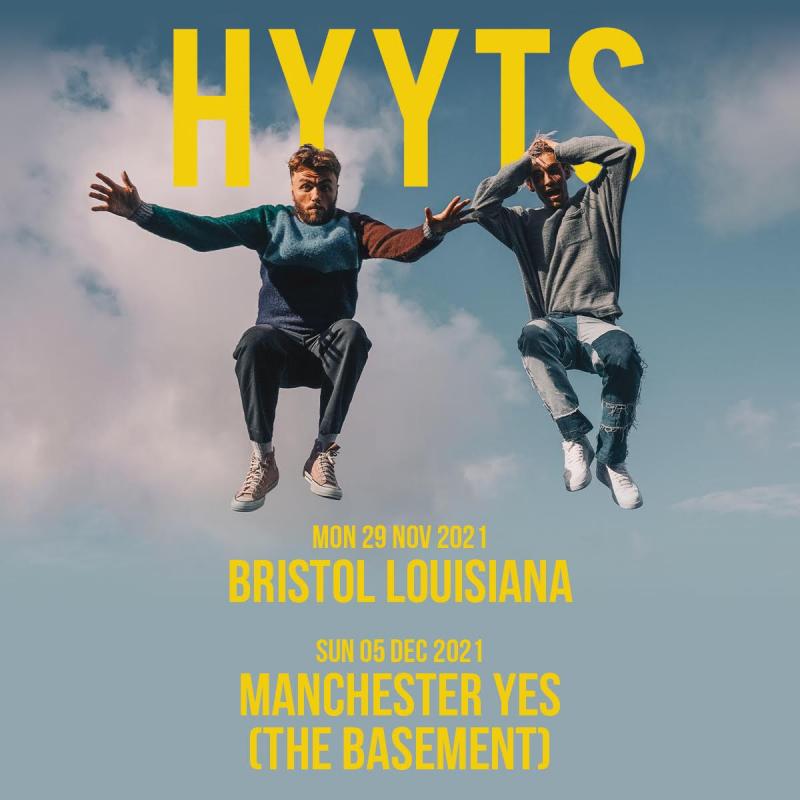 Hyyts + Support
The Louisiana, Bristol, GB
Monday, 29 November, 2021
7:30pm

16 plus, under 18 must be accompanied by a responsible adult.
Get Tickets
SJM Concerts: Hyyts + Support @ The Louisiana Bristol
"HYYTS's music walks the line between underground electronica and the pure pop rush of Muna or The 1975." 
- The Observer,  One To Watch
"unforgettable, unapologetic pop" - The Line Of Best Fit
"HYYTS are blending pop ambition with intimacy" - CLASH
"gloriously euphoric" - Notion
"perfect pop for belting out at the top of your lungs" - The Skinny
"[their music] sonically oscillates between synthy electronic production and soaring pop" - Wonderland
"I feel like the Tom Waits quote 'I love beautiful melodies telling terrible things' sums us up in the best way. We have things to say, and points to make, whether it's socially, politically, or not deep at all, but we also want to have a load of fun and let pop music make people happy for three minutes again" says Adam.
HYYTS is formed of Glaswegian natives Adam and Sam, whose brotherhood has shaped HYYTS from their bedroom beginnings to unashamedly and rapidly infiltrating the pop landscape. With a sonic palette that traverses pop and electronic, their sound amalgamates the euphoria of the 80's pop and modern sensibilities, journeying from underground club culture to production laced with brooding beats and soaring pop ambition. At the core of their artistry is contrast. From juxtaposing paths that led them to HYYTS; the contrasting influences that are woven to create their sound; to their lyrics bearing witness to their brutal honesty while the sonics blare instant dancefloor joy. "The idea of contrast has always been so important to us. Our personalities completely contrast, Sam is the illusive and quiet one, headphones in and getting inspiration from all angles and genres, putting weird sounds and erratic production over my completely different approach of bubblegum pop and cheesy lyrics. We seem to balance each other out, and it seems to work."
Long before the music they'd eventually make together, music brought the pair together to create an intimate and unique brotherhood - beyond the cliche of finishing each other's sentences (which they do), they have a rare level of empathy for each other, a genuine psychological connection and almost twin-telepathy. Adam says "The two of us are so symbiotic and weird. We think the same thing as each other and exist on the same level. Where we spend all our time together you kind of go through everything together as well."
The duo met aged 10 and grew up together. Adam moved to Glasgow to study musical theatre and eventually moved to London to pursue music while Sam was in Edinburgh, promoting underground gigs and club nights where his interest in production was sparked. After a stint together in Dundee working with Gary Clark (member of one of Dundee's most famous 80's pop bands, Danny Wilson), they returned to Glasgow where, in the humble beginning of HYYTS, Adam was also working as a music therapist in the Scottish prison system - using music as a form of therapy and rehabilitation.
The band signed to Warner Records in late 2019, going on to release an array of euphoric pop bangers in 2020 that caught the attention of the likes of Wonderland and Radio 1, won them Best Pop Act at the Scottish Music Awards and a nomination at The Scottish Alternative Music Awards. Anthemic, euphoric, arms-in-the-air music with an underlying honesty and reliability of love and loss. They also embarked on the deeply personal topic of mental health, particularly in men, and particularly through their experience of Scotland's failing mental health
Support TBA
Show starts at 7:30pm.
Line Up