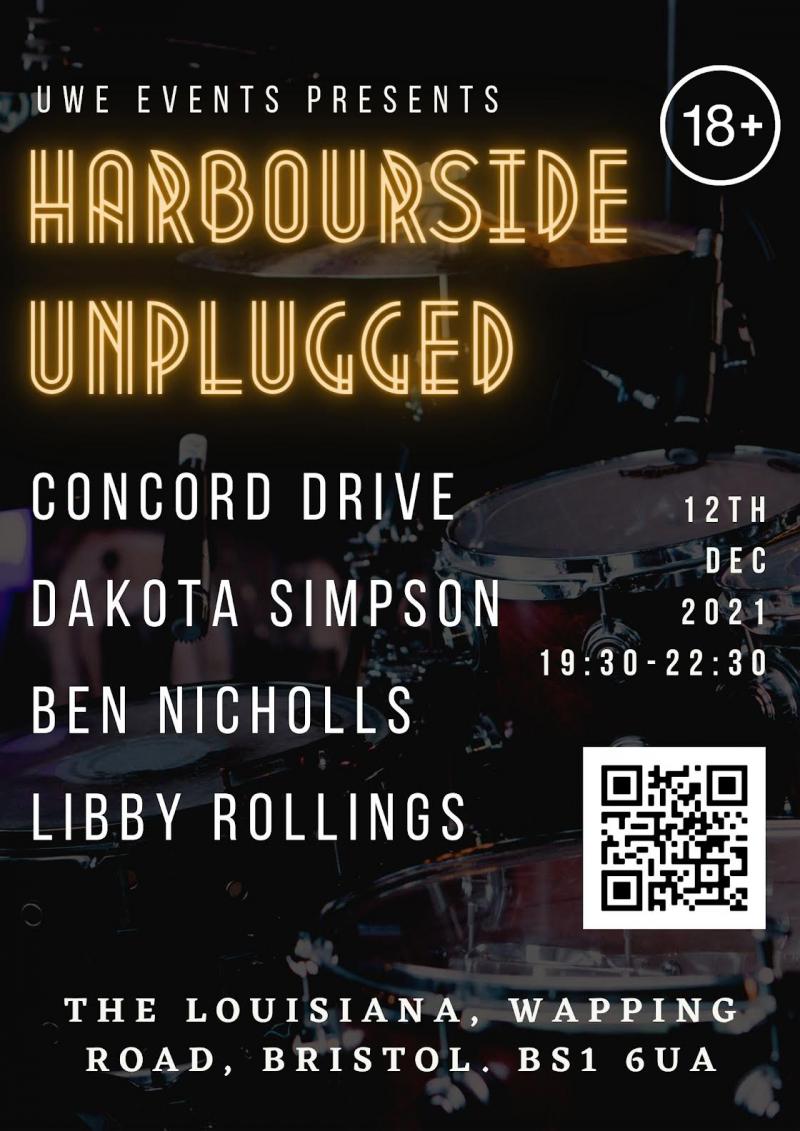 Harbourside Unplugged with Concord Drive
The Louisiana, Bristol, GB
Sunday, 12 December, 2021
8:00pm
£4 adv
16 plus, under 18 must be accompanied by a responsible adult.
Get Tickets
UWE events presents: : Harbourside Unplugged with Concord Drive @ The Louisiana Bristol
Come and soak up some of Bristol's up-and-coming live music with our stripped back acoustic night. Expect live music from: Concord Drive, Dakota Simpson, Ben Nicholls and Libby Rollings. 
 Concord Drive
Originally from North Wiltshire, you can trace the origins of Concord Drive back to Nathan, Matt, and Jack, throughout their early to mid-teens. They formed various bands, but none of them stuck. Mid-2018 they came across Jacob, then a solo artist. The four of them formed what is now known as Concord Drive and burst onto their local scene. A year later they were looking for a bass replacement and in July 2019 Martin joined the band. Since then, Concord Drive have released two singles and played in venues and festivals across the south of England; Concord Drive have big plans for the future.
Dakota Simpson
Powerful musical soundscapes combined with emotionally driven heartfelt lyrics create an encapsulating atmosphere. Dakota fuses wistful melodies and nostalgic groove from a time you don't yet know exists, but it's what you're staying for.
Ben Nicholls
Combining traditional elements of The Eagles and adding in a contemporary and a modern feel like Mumford and Sons, comes Bristol based artist, Ben Nicholls. 
After working with the likes of artists like Wildwood Kin (Signed to Sony Music UK), Ben decided it was time to take his music to new heights. Since being in Bristol, Ben has made a name for himself with writing songs that captivate any audience and with that, has the ability to get any crowd singing along. 
In 2021, Ben announced the release of his debut single titled 'Scream and Shout'. A song that touches upon a few different scenarios from when Ben was in his first year studying in Bristol but the main focus of the song is something we can all relate to - the end of a relationship. You can stream 'Scream and Shout' now on all streaming services. 
At this gig, Ben will be accompanied by his good friend (and band member), Dan Quinton on Guitar. 
Libby Rollings
Bristol based Singer/song writer.
18+, under 16s must be accompanied by an Adult.
Advanced tickets (£5.00 inc booking fee)
Please do a COVID lateral flow before coming to our event. Do not attend if you have a positive test result. Follow the Government COVID guidelines.
We all have a part to play in stamping out drink spiking in Bristol. Don't be a creep. Look out for each other!
If you have any questions about the event, please contact us by email: harboursideunplugged@gmail.com
Show starts at 8:00pm.
Line Up
Harbourside Unplugged with Concord Drive