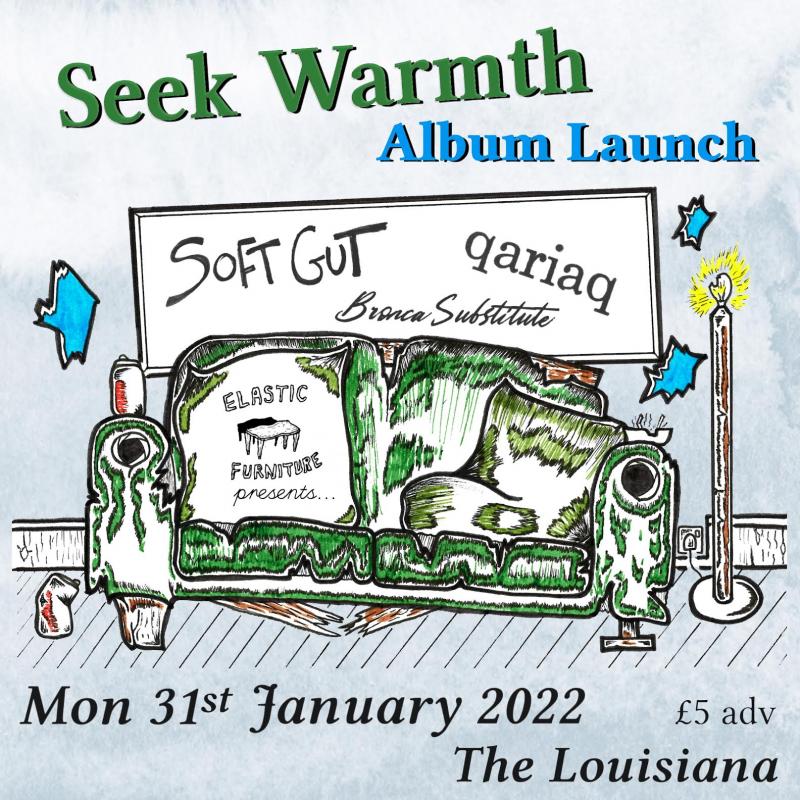 Seek Warmth Album launch
The Louisiana, Bristol, GB
Monday, 31 January, 2022
7:30pm
£5
16 plus, under 18 must be accompanied by a responsible adult.
Get Tickets
The Louisiana presents: Seek Warmth Album launch @ The Louisiana Bristol
Seek Warmth started as a lo-fi pop/indie two piece, formed in the corridors of a school by two teachers. A proper practice and a couple of pints later and it became a serious thing. At gig number two (at The Louisiana) Paul and Jay met drummer Cal. They became a three-piece and not long later, the band headlined the same venue. Fast forward another year and the band gained another member with Miles joining on bass. A few practises, a few gigs and a few lockdowns later and the band had recorded their first album in the basement of the Louisiana, with producer Will Carkeet. Then at some point during the finishing of the album the wonderful Noah got in touch and told us he wanted to start a tape only record label and put out our record as his first release. How could we say no -- the first release on the new Elastic Furniture label! And it's only fitting that the launch show for the album takes place in the same building it was recorded in, so come and celebrate with us! The album will be available to buy on tape at the show.
Joined by the americana barbequers Soft Gut, avante-garde kalimba pop from qariaq and the ambient sounds of Bronca Substitute (the nom de guerre of Noah Radley of Elastic Furniture).
Show starts at 7:30pm.
Line Up