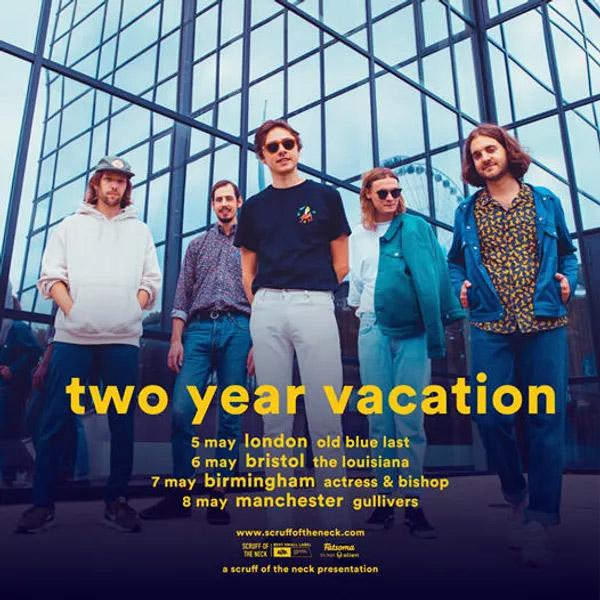 Two Year Vacation
The Louisiana, Bristol, GB
Thursday, 24 March, 2022
7:30pm
£10adv
Entry Requirements: 16+ (under 18s must be accompanied by an adult).
Get Tickets
Scruff of the Neck presents: Two Year Vacation @ The Louisiana Bristol
Although based in Sweden, one of the coldest, darkest and rainiest countries in the world, Two Year Vacation produce tracks that perfectly fits your sun-drenched beach holidays. With a drink in your hand and no troubles in sight, this is what you want to hear; Tunes that makes your monotone weekdays shine as well as maximising your vacation. Who would think sun-drenched, colorful, funky pop could come out of this grey place?
Their first EP Dresscode: Safari contained the singles Telemark 2000 and Love Will Come Back To You which were both played on Swedish national radio P3 and the EP quickly reached 100.000 plays on Spotify. With both commercial and tv features of the first EP:s tracks and a week-long Germany/Switzerland tour the band is releasing their follow-up EP Science Fiction, released on the 25th of November. The singel Better Off Alone has already showing the bands transformation from a vacation cabana band to outer space rock stars.
Two Year Vacation consists of Max Hessman (keys), Jonathan Westergren (guitar), Anton Tuvesson (vocals & guitar), David Furbacken (drums) and Gyö̈rgy Barocsai (bass).
Scruff of the Neck presents Two Year Vacation on Thursday, 24 March, 2022 – The Louisiana, Bristol.
Show starts at 7:30pm.
Line Up