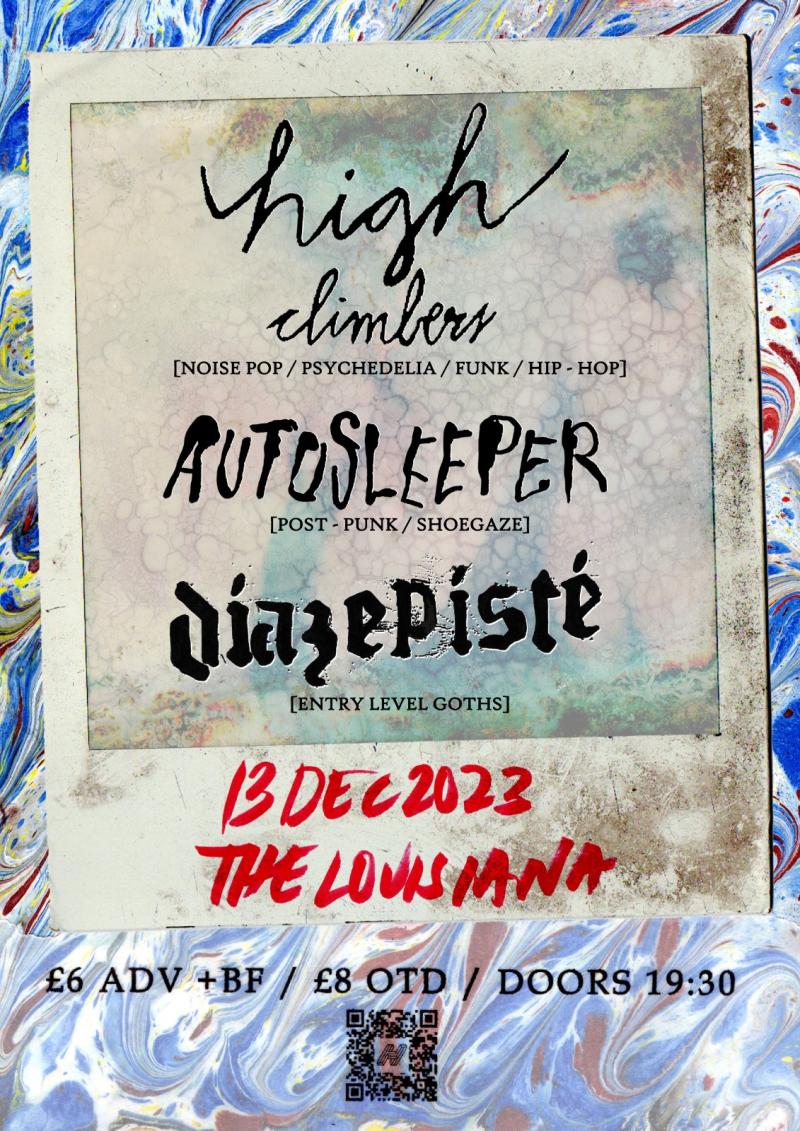 High Climbers + Autosleeper (SP) + DIAZEPISTÉ
The Louisiana, Bristol, GB
Wednesday, 13 December 2023
7:30pm
£6 + BF
16+ (under 18s to be accompanied by a responsible adult)
Get Tickets
Gareth Presents: High Climbers + Autosleeper (SP) + DIAZEPISTÉ @ The Louisiana Bristol
 High Climbers + Autosleeper (SP) + DIAZEPISTÉ live at The Louisiana, Bristol. Wednesday, 13th December 2023
HIGH CLIMBERS:
High Climbers was born in 2012 by Bristol newcomers Karim Bouthera (France) and Mike Robertson (Australia). What began as a way to communicate soon grew into a strong friendship and obsession, and the boys enjoyed playing their eclectic brand of lofi psych-folk as a duo for several years until power couple Rob Burgess and Susanna Bar came into the fold. Now, over ten years later, High Climbers is a five piece, joined recently on bass by filmmaker Richard Edkins, who has ignited a new chapter in the band after their return from a three-year hiatus. Their sound is a melting pot of inspiration from their travels, from noise pop and psychedelia to funk and French hip-hop. Described as both 'gorgeous' and 'wild', High Climbers deliver immersive live performances and are still committed to bridging the cultural divide.

AUTOSLEEPER:
Autosleeper are a Barcelona based post-punk/shoegaze three piece who have recently released their debut album "Ocean of Noise", following their previous 2021 single, "Substance, Sometimes" and their 2020 EP "Only Forward". Autosleeper are comprised of Welsh guitarist/singer Gareth Hughes, Dutch bassist Niek Leermakers and Spanish drummer Hector Aguirrebeña. Their influences range from post-punk bands such as The Cure, Joy Division, Idles, Preoccupations and The Smiths to 90's alt rock bands such as Sonic Youth, Swervedriver, My Bloody Valentine and Ride.

DIAZAPISTE:
Entry level goths.
Show starts at 7:30pm.
Line Up
High Climbers + Autosleeper (SP) + DIAZEPISTÉ