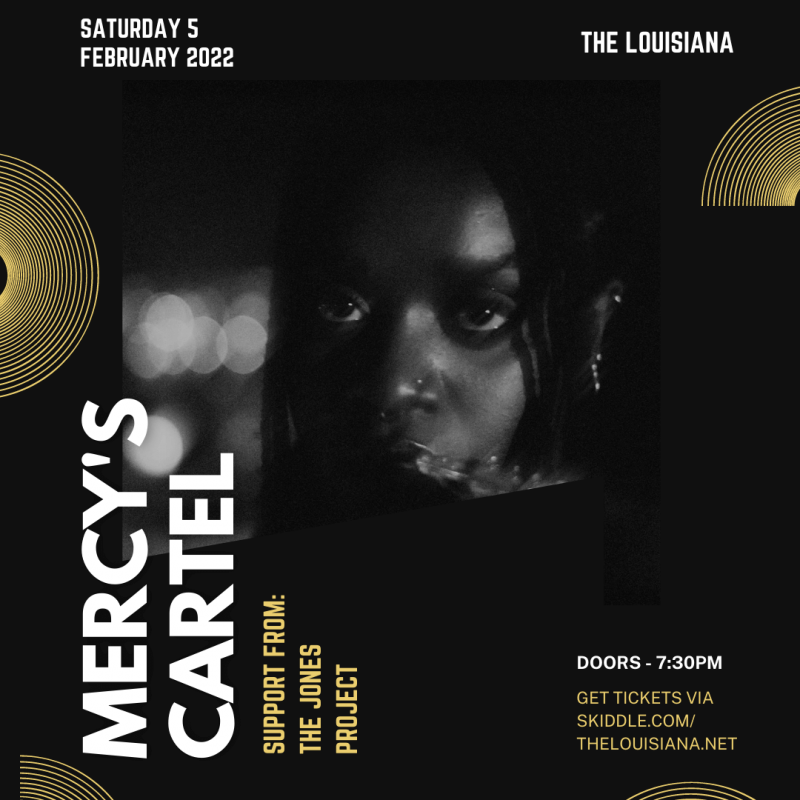 Mercy's Cartel + Support
The Louisiana, Bristol, GB
Saturday, 5 February, 2022
8:00pm
£5 + BF
16 plus, under 18 must be accompanied by a responsible adult.
Get Tickets
The Louisiana presents : Mercy's Cartel + Support @ The Louisiana Bristol
The Louisiana Presents:
Mercy's Cartel - Based in Bristol and London, Mercy found herself relating more to the "geezers" as opposed to the ultra-glam ladies of her hometown, Brentwood in Essex. Experiencing racism from an early age she couldn't wait to leave the town she grew up in. First introduced to music as young as eight years old, she started playing the double bass in her local orchestra. Her Dad's love for his record collection meant there was endless encouragement but she crippled with self-doubt and tried everything to enter the corporate world. It wasn't until she found herself interning at a bank when she realized that life wasn't for her. Mercy dropped out of university and began to study Songwriting at BIMM Bristol where she found herself releasing music after meeting her longtime producer, Dom Porter.
Her music has been met with a warm reception and glowing reviews with multiple spins on Radio 1 on shows such as Rickey, Charlie and Melvin and Jack's Saunders' Future Artists show,features from publications such as Mixtape Madness, Clash, and Earmilk and inclusion to H&M's in-store playlist. Her single, 'Falling' set the tone forMercy's viability as one of the most sought after voices in the UK music scene with Jack Saunders' stating: 
"What really drew me to her voice is how it can handle any style; Pop, R&B, Electronica, Funk, Jazz, it's all there in this track, and she rides them all perfectly."  - Jack's Saunders' Future Artist 
With Support from The Jones Project + Rosie & The Tricycle! 
16+ under 18's must be accompanied by an adult.
Show starts at 8:00pm.
Line Up