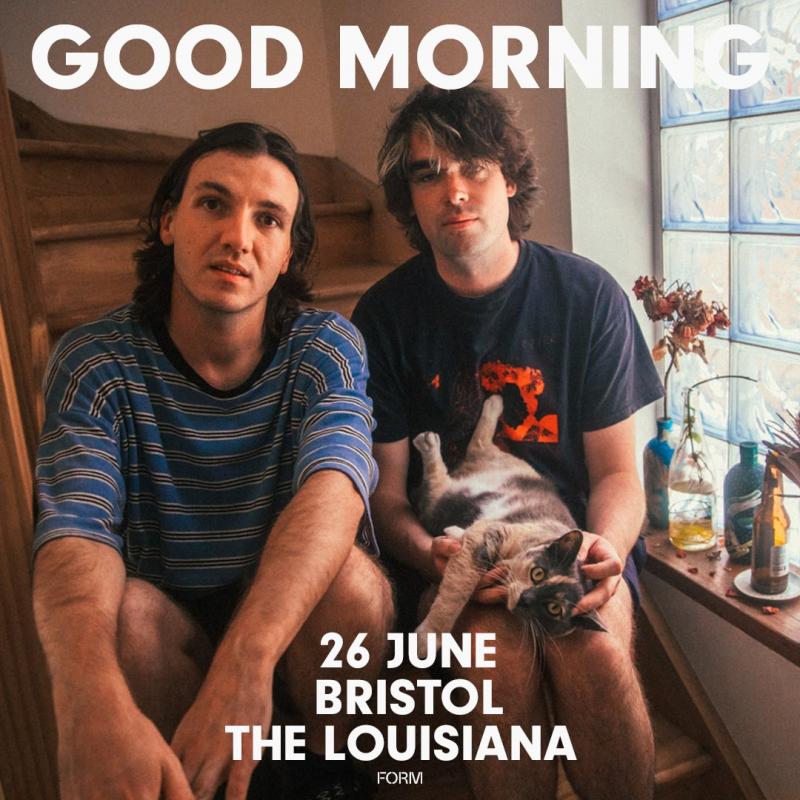 Good Morning
The Louisiana, Bristol, GB
Sunday, 26 June, 2022
8:00pm
£10+bf
16 plus, under 18 must be accompanied by a responsible adult.
Get Tickets
Form presents: : Good Morning @ The Louisiana Bristol
Good Morning are a band from Melbourne, Australia. Formed as a recording project in 2014 by 
Stefan Blair and Liam Parsons, the band's presence in their lives has expanded slowly but 
surely over the better part of a decade. Due in part to a few strokes of luck, and a mysteriously 
unflinching desire to write and record music, Good Morning have been able to expand their 
scope from the lounge rooms and pubs they began recording and performing in to playing 
shows to people all across the globe.
In 2020 as tours began rapidly falling by the wayside, Good Morning's plans to transition into a more full-time touring schedule quickly came to an end. Trying to re-contextualise their 'jobs' as musicians, Good Morning set their focus on piecing together a studio in the Melbourne suburb of Preston, and have since somewhat maintained a regular Monday - Friday recording schedule. Their latest release, the self-produced 'Out To Pasture / Misery' is a result of said schedule. With endless amounts of studio time Good Morning have been able to indulge more than ever in crafting layered recordings, a welcome change for the band, who for the most parthave made their records within the space of a few days.
'Out To Pasture / Misery' marks a few firsts for the band, namely strings (performed by 
Melbourne based violinist Chloe Sanger) and banjo. Both songs also feature Glenn Blair on 
horns. Together Good Morning have released six records of varying quality and length - 
Shawcross (2014), Glory (2016), Prize // Reward (2018), The Option (2019), Basketball 
Breakups (2019), and most recently Barnyard (2021). They are currently working on their 
seventh record.
Show starts at 8:00pm.
Line Up