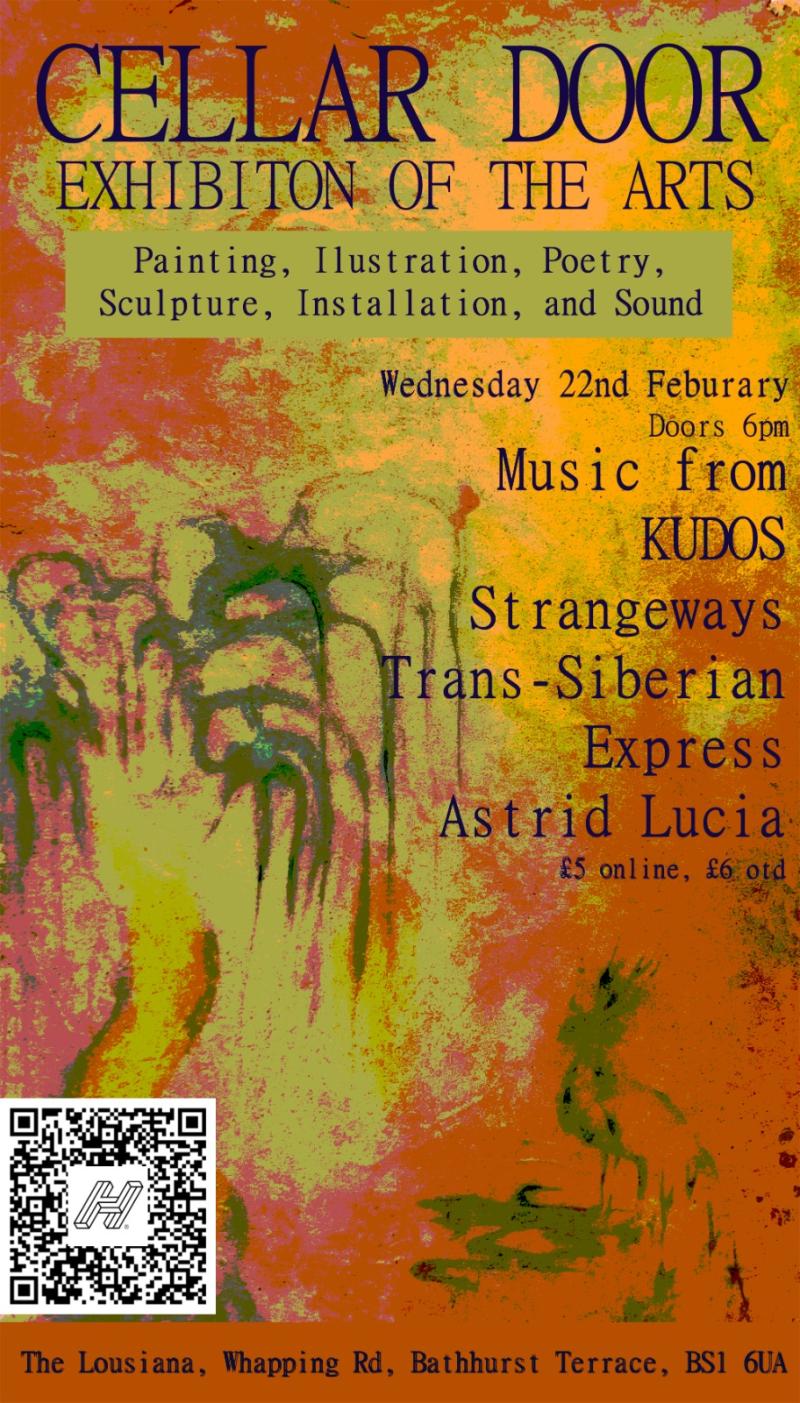 Cellar Door - Exhibition of the Arts
The Louisiana, Bristol, GB
Wednesday, 22 February 2023
6:00pm
£5 + BF
16+ (under 18s to be accompanied by a responsible adult)
Get Tickets
The Louisiana Presents:: Cellar Door - Exhibition of the Arts @ The Louisiana Bristol
Cellar Door - Exhibition of the Arts at The Louisiana, Bristol. Wednesday, 22nd February 2023
Art exhibition in the cellar of the Louisiana with work from many emerging local artists such as - Yasmin Egin, Lola Norwood, Lindsey Violet, Freya Iona, Kabir Sawyer, Joseph De Sousa, Rosie Bayliss, Sally Lewis, Maeve Clenaghan, Hannah Taylor, Lily Mae Strong, Tom Mills, Sharkey and Ben Crone. The exhibition comprises of paintings, sculpture, illustration, poetry, installation and sound in response to themes such as magic, mythology, symbolism folklore and more.
Music in the live room from KUDOS, Strangeways, Trans-Siberian Express and Astrid Lucia.

KUDOS
KUDOS are an up-and-coming UK based alternative rock band emerging from Bristol. They combine hard captivating guitar riffs with catchy choruses, and use guitar effects to incorporate psychedelic and shoegaze soundscapes with indie-style song writing. This is accompanied by a chaotic, yet tight and characterful rhythm section, influenced by elements of dance music, to create the unique sound of KUDOS. In a live setting, the band provides energetic and emotive performances that captivate and enthral audiences. Recently, KUDOS have added a live visual element to their show which brings another artistic element to captivate the audience.

Strangeways
Sex. Politics. Dreams. Strangeways are it. With electric performances these boys aren't afraid to show off what they can do whilst having a good time. A modern take on the Garage Rock and Post Punk scenes, their music is full of attitude and a whisper of sweet nothings to the music that influenced them. Capped off by the explosive performance of Mick Jagger meets Johnny Rotten frontman, Tom Turner. This is only the start for Strangeways.
Trans-Siberian Express
A mixture of a lot of genres. Experimental rock/ blues and splurge-pop.

Astrid Lucia
Alternative r&b, nocturnal and lively.
Show Starts At 6:00pm.
Line Up
Cellar Door - Exhibition of the Arts