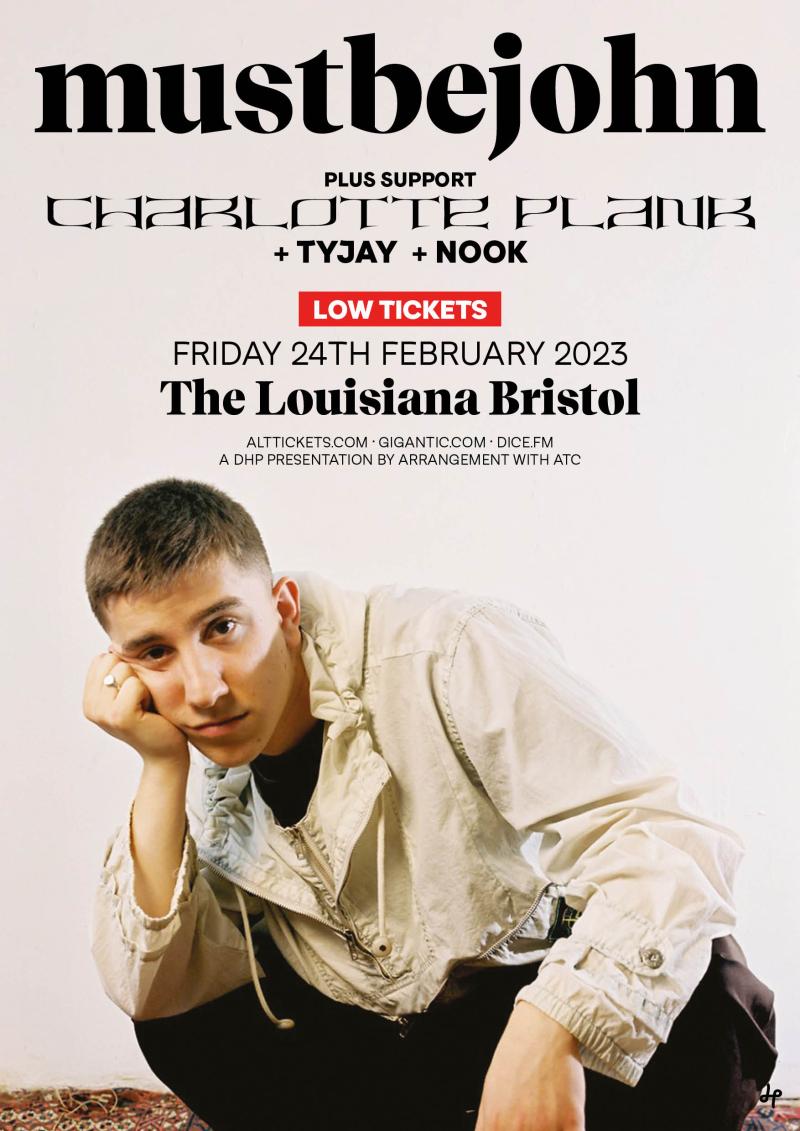 Mustbejohn + support from Charlotte Plank
The Louisiana, Bristol, GB
Friday, 24 February 2023
7:30pm
£10 + BF
16+ (under 18s to be accompanied by a responsible adult)
Get Tickets
DHP Family Presents: Mustbejohn + support from Charlotte Plank @ The Louisiana Bristol
DHP Family Presents: Mustbejohn, Live at The Louisiana, Bristol Friday, 24th February 2023
Support from Charlotte Plank + Tyjay + Nook
Heavily inspired by his surroundings mustbejohn is fast becoming known for his relatable, catchy and fresh sound. Merging genres throughout the six tracks, John's musical influences act as a bed for his frank and raw song-writing as he tells stories of life in the city, parties and people he knows.
Offbeat rhythms jump beneath jazzy brass on 'Little Bit' as John's understated vocals sing "Can't you unwind just a little bit, glass of wine and a little spliff. Take your time in the pit of it" above Ska influenced production. The track's nostalgic feel acts as a contrast to the vocal driven contemporary dancefloor heater 'Raining Colours' with its bouncy synths and steady drum loops. With his distinctive and raspy tone, rapper Joe James lends his vocals to 'Follow That Sound' joining mustbejohn above simple and steady production, "the cities tryna bring me down" the pair sing in emotion-fuelled and hard hitting track.
Talking about the EP as a whole mustbejohn says: "I'm in if You Are' is quite literal in the sense, I'm in if you are! I'm sharing my personal experiences, ones with friends and a whole lot of stuff I'd probably be best not saying, but that's probably what makes it worth the listen! There's a blend of genres that I've always loved in there and that makes it really special for me. This record is the soundtrack of the most recent years of my life; messy nights, hangovers, confusion missed in with some hope along the way!"
Racking up over a million streams mustbejohn's last EP 'Left The Bags Behind' ignited his fast trajectory to being one of this year's hottest newcomers. With BBC Radio 1 support from Jack Saunders and his headline London show just around the corner 2022 is looking to be an even brighter year for mustbejohn.
https://www.instagram.com/mustbejohn/
Show starts at 7:30pm.
Line Up
Mustbejohn + support from Charlotte Plank