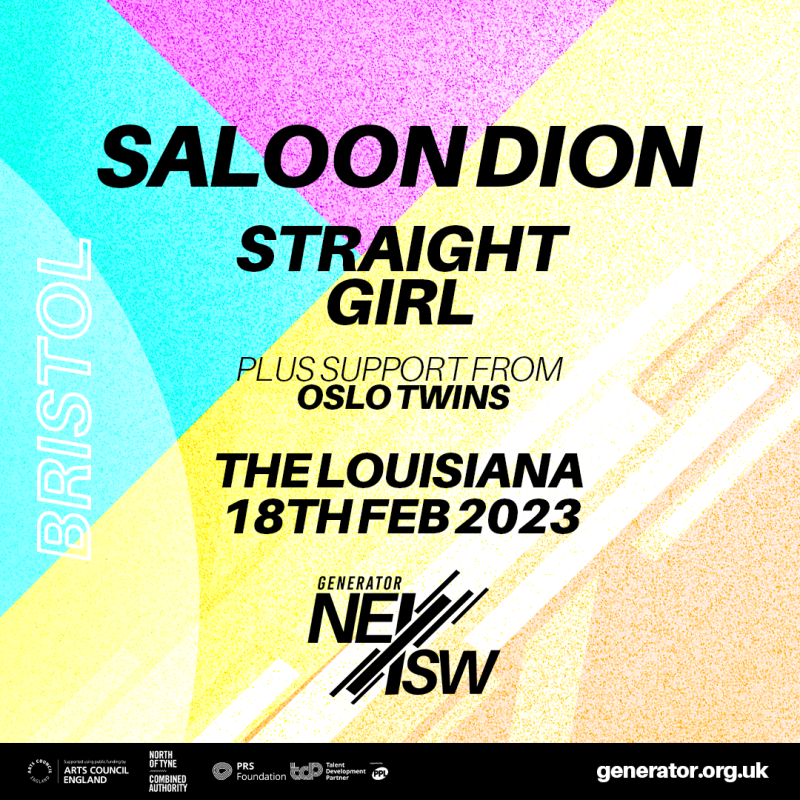 NExSW Bristol - SALOON DION + STRAIGHT GIRL + OSLO TWINS
The Louisiana, Bristol, GB
Saturday, 18 February 2023
7:00pm
Free Entry
16+ (under 18s to be accompanied by a responsible adult)
Get Tickets
NExSW Bristol Presents: NExSW Bristol - SALOON DION + STRAIGHT GIRL + OSLO TWINS @ The Louisiana Bristol
NExSW Bristol - SALOON DION + STRAIGHT GIRL + OSLO TWINS live at The Louisiana, Bristol. Saturday, 18th February, 2023
North East by South West is a brand-new touring initiative by Generator for emerging artists looking to take their music out on the road. This programme is designed to support people hailing from two of the UK's most exciting music regions renowned for nurturing underground talent – the North East and the South West.
The Bristol instalment of the tour will be headlined by Bristol's post-punk/surf-rockers Saloon Dion, supported by North East born Electropunk Juggernaut STRAIGHT GIRL
SALOON DION
Hailing from Bristol and London, Saloon Dion were born in 2021 from the still 'hot to the touch' kindling of a flaming pyre, built from a handful of Bristols most loved post punk and surf rock outfits. Sweaty, thumping and exhilarating their live shows are not to be missed – this band can perform with a capitol P and perform they will – whether that's to a packed out tent in a field or to – in their own words 'if we were playing to front of 3 old blokes in a pub we'd be having a blast'
STRAIGHT GIRL
'STRAIGHT GIRL' is the alias of Leeds-based composer and producer Remy Enceladus (non-binary | they/them pronouns).
Heralded for their 'magnetic and exhilarating' live performances, the self-branded 'connoisseur of sad-dance' has been bulldozing their way through the UK's alternative, electronic, and progressive scenes since 2019. An alchemist of remorseless beats and jarring basslines, STRAIGHT GIRL will be taking no prisoners on their mission to prove themselves as the 'Overlord of Electropunk'.
Show starts at 7:00pm.
Line Up
NExSW Bristol - SALOON DION + STRAIGHT GIRL + OSLO TWINS