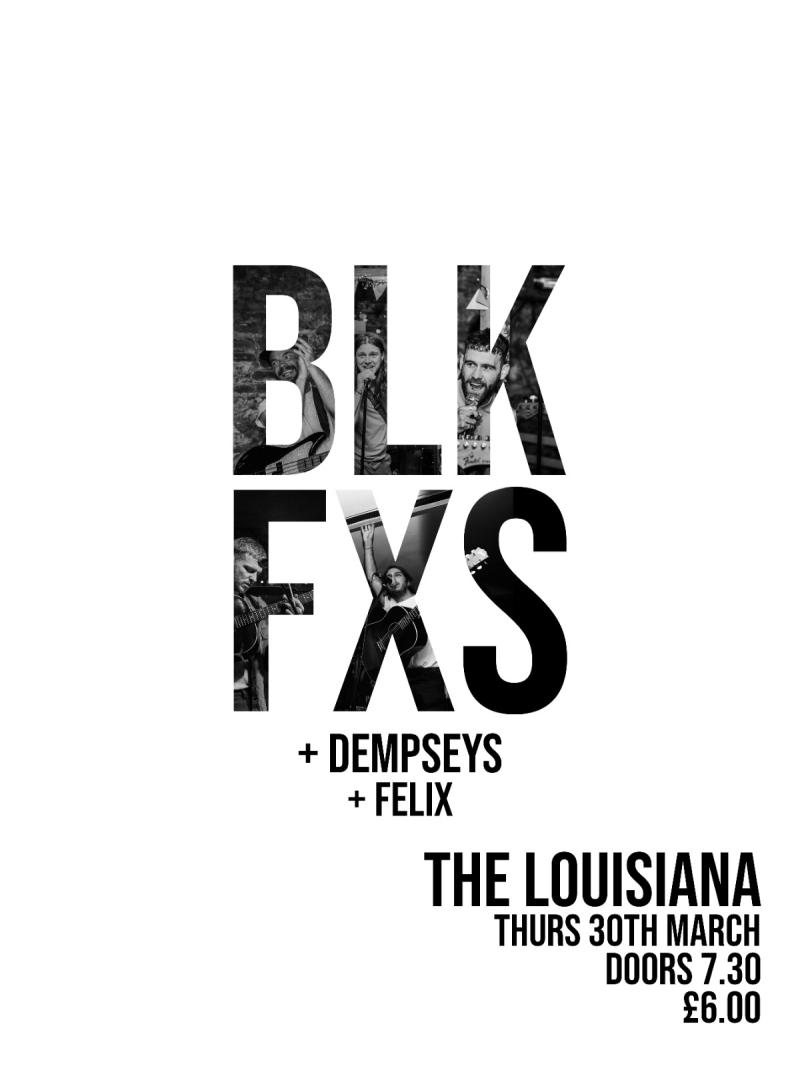 BLK FXS + Dempseys + Felix
The Louisiana, Bristol, GB
Thursday, 30 March 2023
7:30pm
£6 + BF
16+ (under 18s to be accompanied by a responsible adult)
Get Tickets
The Louisiana Presents: BLK FXS + Dempseys + Felix @ The Louisiana Bristol
BLK FXS + Dempseys + Felix live at The Louisiana, Bristol. Thursday, 30th March 2023
So here we have it, BLK FXS are back, and back with an absolute bang. After laying down the foundations last year, the momentum now rolls into 2023 as the FXS look to grace the historic venue that is The Louisiana. With support from Dempseys & Felix.
Thanks for supporting independent music.

BLK FXS: BLK FXS are an English music group based in Bristol. Uniquely lead by three front men, the high energy band combine soulful melodies with substantial poetry achieving a rootsy pure sound.
Being influenced by funk, folk and hip hop BLK FXS are a modern testimony to the great music from before.

DEMPSEYS: DEMPSEYS are a five piece indie pop band from Bristol founded by frontman Charlie Dempsey. Colliding the unfeigned lyricism of Lewis Capaldi with the an- themic overtones of Kings Of Leon - DEMPSEYS engineer a soundscape fuelled by emotion and storytelling. Shaping the soundtrack to your quiet cross - country train journeys or the explosive echo of a festival memory through the contempo- rary narrative of Charlie's lyricism.
A modern sketch of generational favourites.

FELIX: Melding heart rending vocals and powerful indie rock arrangements, up and coming singer-songwriter Felix fuels his ear-worming anthems with real life experiences that lie just below the surface of his emotive lyrics. Ranging from cry your eyes out in your car to speeding down the motorway shouting your lungs out, Felix's tracks are lifted to an even higher level in his thrilling live set, filled with shimmering surge and a bare, shiver-inducing voice. This Bristol based songster is not one to miss.

For £6.00 & 3 Bands this is one not to be missed.
Show starts at 7:30pm.
Line Up
BLK FXS + Dempseys + Felix