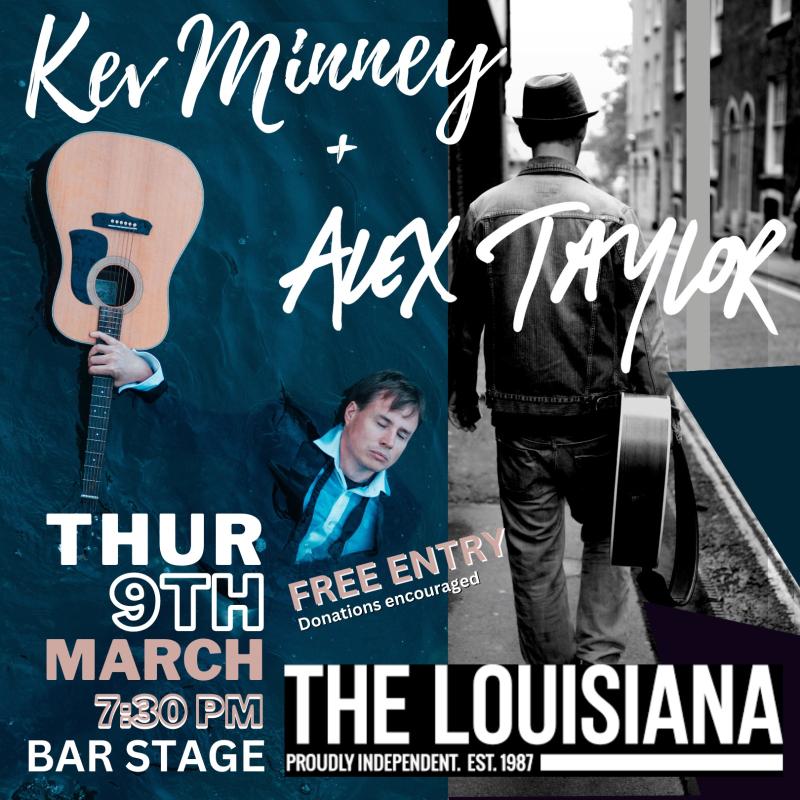 Kev Minney + Alex Taylor - Bar Stage
The Louisiana, Bristol, GB
Thursday, 9 March 2023
7:30pm
Free Entry (Donations Encouraged)
16+ (under 18s to be accompanied by a responsible adult)
Get Tickets
The Louisiana Presents: Kev Minney + Alex Taylor - Bar Stage @ The Louisiana Bristol
The Louisiana (Bar Stage)
7:30pm
Free Entry
(Donations Encouraged)
KEV MINNEY
https://www.kevminney.com
https://www.facebook.com/kevminney
'Outstanding' – BBC Radio 6 Music
'A very promising future' – Guitarist Magazine
Born and raised in Northampton, UK, Kev Minney is a singer-songwriter with a unique voice and virtuoso guitar skills. His songs emanate straight from the heart, evoking emotion, that brings us stories of tenderness, grit, hope and authenticity. He's isn't a person to follow trends, and that has led him to create his own artistic path.
Before he began singing, Kev struggled with a severe stutter, a challenge that he has gradually overcome by firing up the gumption to get on stage and perform hundreds of times. He highlights the story in his poignant single entitled, 'It Doesn't Bother Me'.
Kev's music brings the rawness of a working-class guy, but the sensitivity of an artist. Throughout the whole album we get a sense of his drive and passion that comes from a lifetime of overcoming the limits of his background. He is strongly influenced by songwriters including Neil Young, Nick Drake, Jackson C Frank along with more modern-day artists such as Radiohead and Nick Cave.

..................
ALEX TAYLOR
https://www.alextaylormusic.com
https://www.facebook.com/AlexTaylorUK
"Sublime... Buckley-esque singer songwriter" – Time Out
"Echoes of Bill Withers' jazzy folky soul" – Q Magazine
"The burnished baritone... who sounds like a calmer, more soulful Sting" – The Guardian (four stars)
"Dynamic solo shows, using pedals and loops to create a wall of sound" – Maverick Magazine (four stars)
Bristol based singer/songwriter and multi-instrumental loop pedal artist. Already compared by reviewers to the likes of Bill Withers, John Martyn and Jeff Buckley, Alex Taylor is one of the shining lights of the acoustic scene and a troubadour of world-class standing.
When you see him perform live, prepare yourself for an energetic and passionate vocal performance, dextrous and original acoustic playing and some dynamic loop pedal trickery for good measure.
Show starts at 7:30pm.
Line Up
Kev Minney + Alex Taylor - Bar Stage
Plus Special Guests