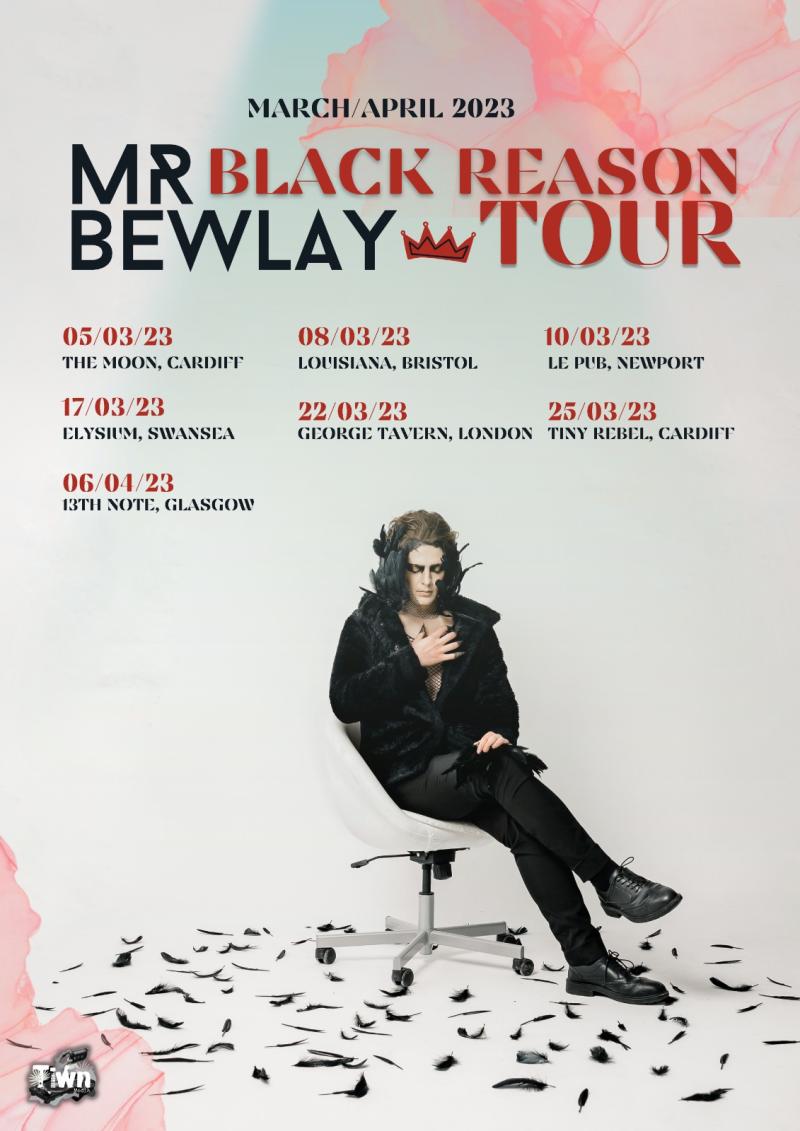 Mr Bewlay - Black Reason Tour
The Louisiana, Bristol, GB
Wednesday, 8 March 2023
7:00pm
£5 + BF
16+ (under 18s to be accompanied by a responsible adult)
Get Tickets
Conscious Sounds Presents: Mr Bewlay - Black Reason Tour @ The Louisiana Bristol
Mr Bewlay - Black Reason Tour live at The Louisiana, Bristol. Wednesday, 8th March 2023
with support from The Mudd Club + Witch Hook
Indie Alt-Pop singer songwriter MR BEWLAY releases his next single 'Bewlay The Tormentor' on via Tiwn Media with Digital
Distribution via Pyst. 'Bewlay The Tormentor' is the first single lifted from his second EP, Black Reason. Black Reason the EP is
released on 3rd March. 'Bewlay, The Tormentor' is currently slated for impact on 17th March.

The UK Art Pop extraordinaire Mr Bewlay has established himself as the paramount voice for the unorthodox. Currently based in
Cardiff, Bewlay's upbringing was flamboyant with an early induction onto the stage. With amateur dramatic performances of classics
like West Side Story, A View From A Bridge and A Streetcar Named Desire Bewlay learnt the subtle intricacies of stage performance, a
skill he brings with him to this day. Beginning his musical career under the mentorship of the respected Forte Project in Wales, In
addition he has played sold out headliner shows in prestigious venues such as Porters, Queens Hall and Ill Repute. As a champion
for LGBTQ+ activism he has also given talks and performed at Queer festivals and shows with the On Your Face Collective.
Recently Bewlay has signed with Tiwn Media and they are set to release the next wave of his music with their second Ep : Black Reason
With a breadth of sound ranging from retro-spiced pop, to quiet reflective solo pieces, Bewlay's unpredictability is also found in his
music. With influences coming from artists such as David Bowie, St Vincent and Parquet Courts, Bewlay remains in a lane of his own
with bombastic vocals, extravagant style and lyrics of the utmost originality.
Doors at 7:00pm.
Line Up
Mr Bewlay - Black Reason Tour