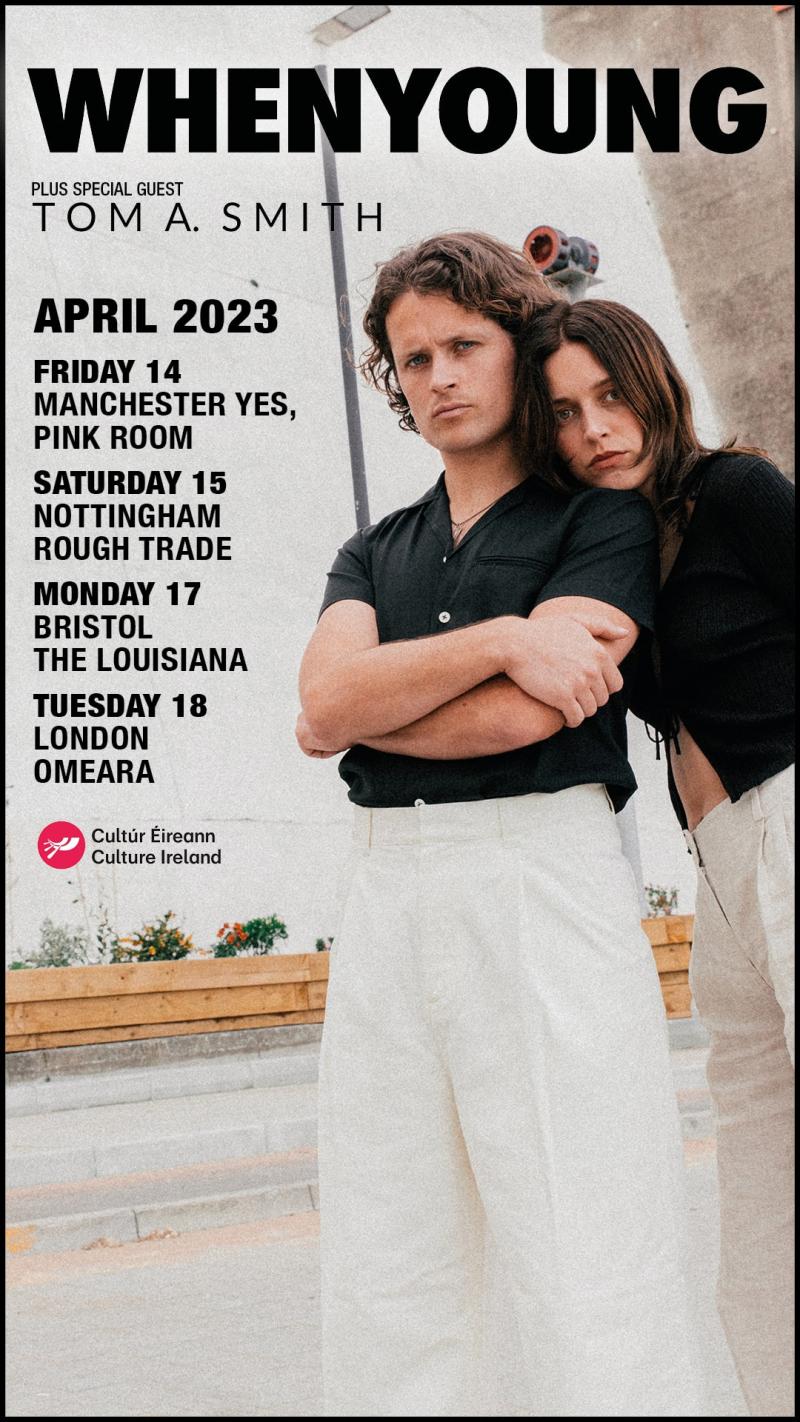 Whenyoung + support from Tom A. Smith
The Louisiana, Bristol, GB
Monday, 17 April 2023
7:30pm
£11 + BF
16+ (under 18s to be accompanied by a responsible adult)
Get Tickets
SJM Concerts Presents: Whenyoung + support from Tom A. Smith @ The Louisiana Bristol
SJM Concerts Presents: Whenyoung, Live at The Louisiana, Bristol. Monday, 17th April 2023
+ support from Tom A. Smith
Bio
Whenyoung are an Irish band from Clare and Limerick, based in the UK. They were brought up with a love for music from Irish trad to 00's pop and everything in between, eventually coming upon punk and rock music of old. That became their mutual escape, which eventually resulted in them moving to London to start a band. In between, Aoife studied Landscape Architecture and Horticulture and Andrew studied Architecture. Whenyoung began as a bandcalled Sisters in 2013 with Niall, who is no longer a member of the band. In 2016 this morphed into Whenyoung.
The band signed with Virgin EMI and UMP in 2017 and after extensive touring (Ire, UK, Eur, US), festival circuits and supporting the likes of Nick Cave, The Pogues, Blossoms, Garbage, The Libertines, Declan McKenna, Inhaler, The Vaccines and Sundara Karma, they released their debut album in 2019. They have been widely supported at radio, particularly by BBC Radio 1, performing two Maida Vale sessions for Huw Stephens and Jack Saunders. 2020 to now has been the pair re-establishing Whenyoung. New music, new sound, fewer members, new team, new label, Aoife overcoming a broken jaw... and all the other life-changing that went on for everyone in that time.
The duo have recorded a huge catalogue of work in this time with producer, Gethin Pearson and their sophomore album is set for release in 2023 on US indie label Antifragile Music and UMP. Aoife and Andrew are also keen co-writers, working with a range of artists on their own projects. They are interested in all forms of art, especially film, fashion and design. These oeuvres help to inform and inspire. Aoife and Andrew love adding identity and narrative to music through film and photography, creating moods and exploring visual elements and find it to be an integral partof the process when connecting to an audience.
The band explain their methods: "Our music often gestates in the form of a vocal melody and we build it from that on an acoustic guitar, bass or piano accompaniment. When the song's energy and personality becomes apparent we start to build flesh around the bones and then Aoife writes the lyrics. It's a team effort. Lyrically it's never whimsical, the subject matter and meaning has to be real, it has to mean something to us. On our upcoming album, we consistently tried different approaches to songwriting. For example, A Little Piece of Heaven started out as a percussive loop played on the back of a guitar that Aoife began babbling melodically over. Some of the tracks were written to a bass synth line rather than a bass guitar, some tracks were inspired by reverse guitar lines. There are often several happy accidents within a song that help to take it somewhere we never expected. That's when the process is most enjoyable. We are lucky in that we have a studio room in our flat which looks out over the sea. It's a beautiful, inspiring place and is where we wrote and partially recorded a lot of our new music.
Show starts at 7:30pm.
Line Up
Whenyoung + support from Tom A. Smith