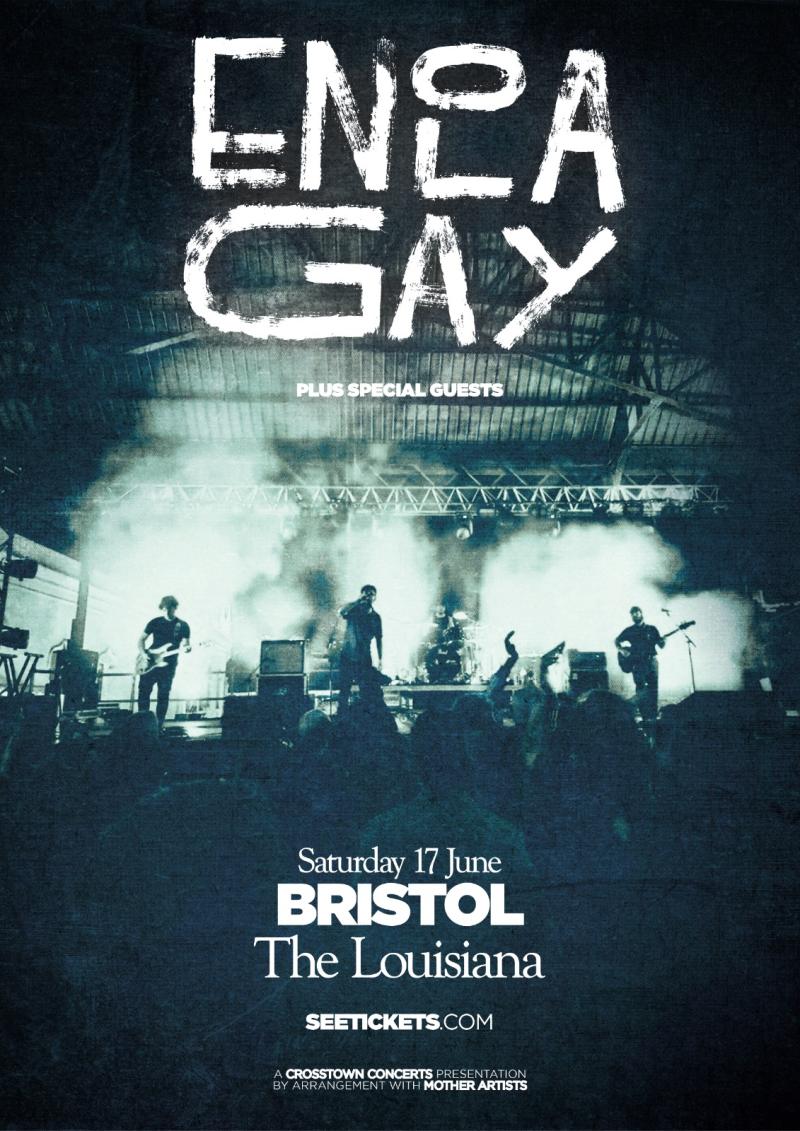 Enola Gay + Special Guests Knives
The Louisiana, Bristol, GB
Saturday, 17 June 2023
7:00pm
£9 + BF
16+ (under 18s to be accompanied by a responsible adult)
Get Tickets
Crosstown Concerts Presents: Enola Gay + Special Guests Knives @ The Louisiana Bristol
Enola Gay + Special Guests Knives live at The Louisiana, Bristol. Saturday, 17th June 2023
"Iggy Pop-approved ...electrifying post-punk venom from Belfast" NME
"They have the aura of a band that should be filling stadiums" Fred Perry
Press: Matty Aston, matthew@supercatpr.co.uk, +44 (0) 7969 972 044
"They are every bit as ferocious and uncompromising live as you might guess from their records!" Steve Lamacq, BBC 6 Music
Belfast-based Irish noise punk mob Enola Gay return with scintillating new effort 'PTS.DUP', out today (April 4th) via Modern Sky (Crawlers, Malady), the first reveal from the band's forthcoming EP set for release this summer.
Venomous hip-hop-inspired vocals that are as uncompromising as the guitars are unforgiving, layered on a rhythm section that draws as much from left-field electronica and techno as it does from post-punk heroes of the late 70s, Enola have certainly wasted no time in establishing themselves as one of the next unique punk voices.
Hotly tipped by the likes of NME, Rolling Stone, DIY and Dork, as well as revered musicians Iggy Pop and Jehnny Beth, the group are back to follow up their acclaimed debut EP 'Gransha' and have partnered with cult indie label Modern Sky in the process.
More raucous than ever and inspired by a personal attack that left a member with a fractured skull; Enola lambast Northern Irish conservative party the DUP and their influence on the impressionable youth of today who feel a lack of identity and abandonment by their own government. Whilst instrumentally and verbally scalding, 'PTS.DUP' also yearns for a united Ireland while also prompting listeners to think about how frustrated sides of the community are indoctrinated into blind hatred from an early age to suit a misinformed agenda.
Speaking ahead of its release, the band explained: ""Following a band member being brutalised in a sectarian attack that left him with a fractured skull, we felt a lot of raw hatred and some shame. 
After processing this, we reflected on the tribalism that fuelled the attack and our anger that followed. The attackers themselves are victims of jingoistic rhetoric that is insidiously normalised in the north of Ireland.
In a country still suffering remnants of The Troubles, young people left in the middle of the road turn to alt-right political parties masquerading as conservatism such as the DUP, searching for a sense of belonging. With talks of a united Ireland looming we should consider how and why Unionists feel and fear that they will be left with nowhere to call home when they shouldn't have to."
Produced by Johnny Hostile (Savages), Enola Gay's 'PTS.DUP' is out April 4th via Modern Sky and will be available on all digital platforms.
Enola Gay is Fionn Reilly (vocals), Joe McVeigh (guitar), Adam Cooper (bass), Luke Beirne (drums)
Show starts at 7:00pm.
Line Up
Enola Gay + Special Guests Knives