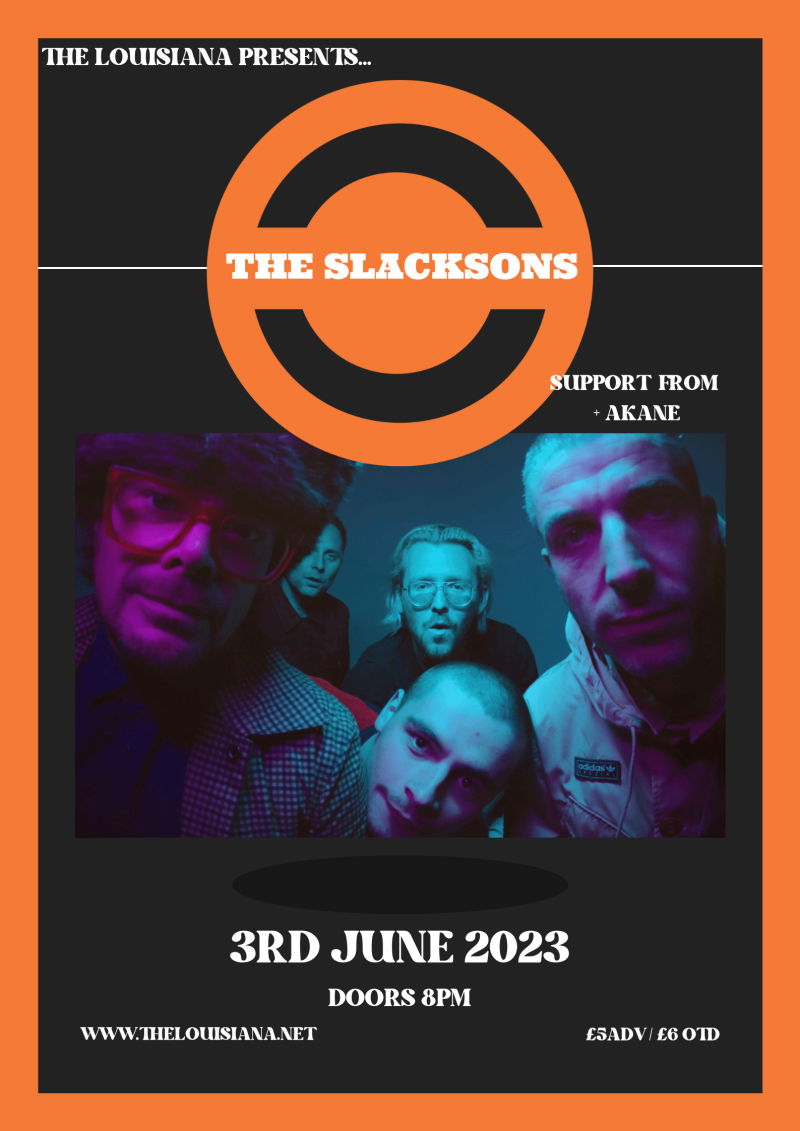 The Slacksons + Akane
The Louisiana, Bristol, GB
Saturday, 3 June 2023
8:00pm
£5 + BF
16+ (under 18s to be accompanied by a responsible adult)
Get Tickets
The Louisiana Presents: The Slacksons + Akane @ The Louisiana Bristol
The Slacksons + Akane live at The Louisiana, Bristol. Saturday, 3rd June 2023
The Slacksons are a relatively new band, formed in late 2019, and they quickly created somewhat of a stir.
When Michael Cleverley (writer and vocalist), met Andy Childs (writer, producer, DJ, and vocals) who having previously toured Europe with Morcheeba and Cousteau under his Elevator Suite moniker, and receiving numerous 'Records of the Week' on Radio 1, and a plethora of press and industry fans, he was keen to explore new avenues.
Upon meeting whilst working together on a building site, Andy overheard Mikeys captivating vocals as he sang while he worked, they agreed to write together and something quite magical happened.
The new partnership with front man Mikeys unique vocals, a cross between The Specials Terry Hall, Damon Albarn and Ian Dury, added to Andys amazing writing and production skills, along with a group of like minded musicians: including renowned keyboard player Dan Moore (Percy Sledge, Pee Wee Ellis, Fred Wesley, the late great Tony Allen and Nostalgia77) Drummer Paul Jones (Labrnith, Sigma and Brian Jackson). They hooked up in a Bristol studio for a cheeky jam session, wrote their first song 'Stormy Weather' and The Slacksons were born!
The Slacksons music weaves through multiple genres and taps into a rich legacy of British music with a cool mix of original Brit Hop, Jazz, Funk, Ska, Breaks and Electronica. They are a fantastic 5 piece highoctane live band, and never fail to raise the roof! The current line up includes the brilliant guitarist Reece Bluck, Liam Twohig- the bands pulse on drums, and Pete Wookey our 'Ace of bass'.
The band have played many great gigs and festivals plus some sold to Bristol and London gig dates, ending with a sold out gig at The Old Queens Head, Islington, London (Owned by The Columbo group/Jazz Cafe).
The band are booked for gigs throughout 2022 in London and Bristol, and for the next Shindig Festival, PennFest, Farm Fest and Camden Rocks festival amongst others.
The band held an album showcase gig at the Troubadour, in London, which was a great success and generated lots of interest in the band including a live performance and interview on BBC Radio 5 with Laura Whitmore to promote their soon to be released first single, and their debut album. Several tracks from their album have already received numerous plays on BBC Radio, BBC introducing by, Jazzie B on Solar Radio, Craig Charles on BBC Radio 6, and Fatboy Slim, plus many other UK and International radio stations, and the band have succesfully released 4 singles over 2022 to an ever growing loyal fan base, and are about to release their fifth single It might be, it could be in late February 2023.
I have included a link below to their debut album 'Plastic bags for Shoes' which is due to be released in Spring 2023, but we have sent it out in advance to a few select DJs, festivals and brands over the last few weeks, and had an amazing response: Here are some early tastemaker reactions:
https://soundcloud.com/the-slacksons/sets/mastered-album/s-sgsYVAVq8UB?si=ca2a603cf80743789088c80acdce3c2d&utm_source=clipboard&utm_medium=text&utm_campaign=social_sharing
Fatboy Slim- 5* This is some crazy shit. I love it..
Craig Charles - BBC Radio 6 (Simon Hodge - Producer) Plastic Bags is a cool tune!
Dean Thatcher- 5* Really like it a lot and it's very hard to pick a favourite track, Plastic Bags,
Stormy Weather, Psychedelic Circus and Wake Up are all outstanding.
Irvine Welch- What a fantastic band!
Jazzie B - I Love this! The album will go in my top 10 this month. I am a fan!
Show starts at 8:00pm.
Line Up