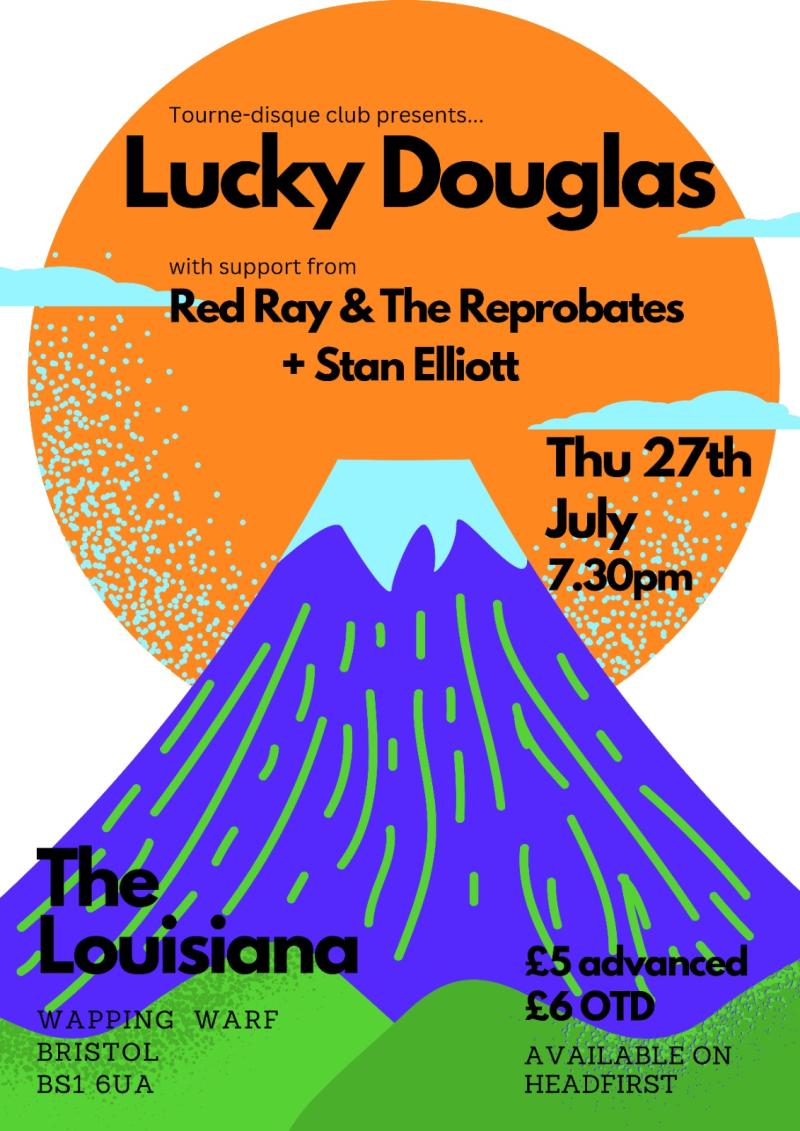 Lucky Douglas + Red Ray & Reprobates + Stan Elliott
The Louisiana, Bristol, GB
Thursday, 27 July 2023
8pm
£5 + BF
16+ (under 18s to be accompanied by a responsible adult)
Get Tickets
The Louisiana Presents: Lucky Douglas + Red Ray & Reprobates + Stan Elliott @ The Louisiana Bristol
Lucky Douglas + Red Ray & Reprobates + Stan Elliott live at The Louisiana, Bristol. Thursday 27th July 2023
Bringing together a delicious line-up of some of Bristol's finest songwriting minds, expect fresh slices of indie-pop, rock with a tinge of alt-country heart.

Lucky Douglas - Hail Bristol's new lo-fi indie-pop rabble! There first headline show at The Louisiana is not to be missed, after a string of buzzing shows in and around the wilder venues of Bristol. Deliciously pop, with electrified folk souls, all played with the intent of wild hungry coyote …..sounding like slices of pineapple, just not on pizza!

Red Ray & The Reprobates - "We all have things missing from our lives that we never knew we needed, and for me it turns out one of those things is a marriage between barnstorming, soulful, Deep Southern-tinged country music and a strong Geordie accent. It just works." - 'Rock 'N' Load'

Stan Elliott and his band, The Easy Peelers - will mesmerise you with a theatrical splendour of sound. Prepare to be catapulted into a soulful stratosphere, laced with indie melodies, with twists of blues and rock-steady alternative rhythms that will make your mouth water. You won't forget it in a hurry.
Show starts at 8pm.
Line Up
Lucky Douglas + Red Ray & Reprobates + Stan Elliott