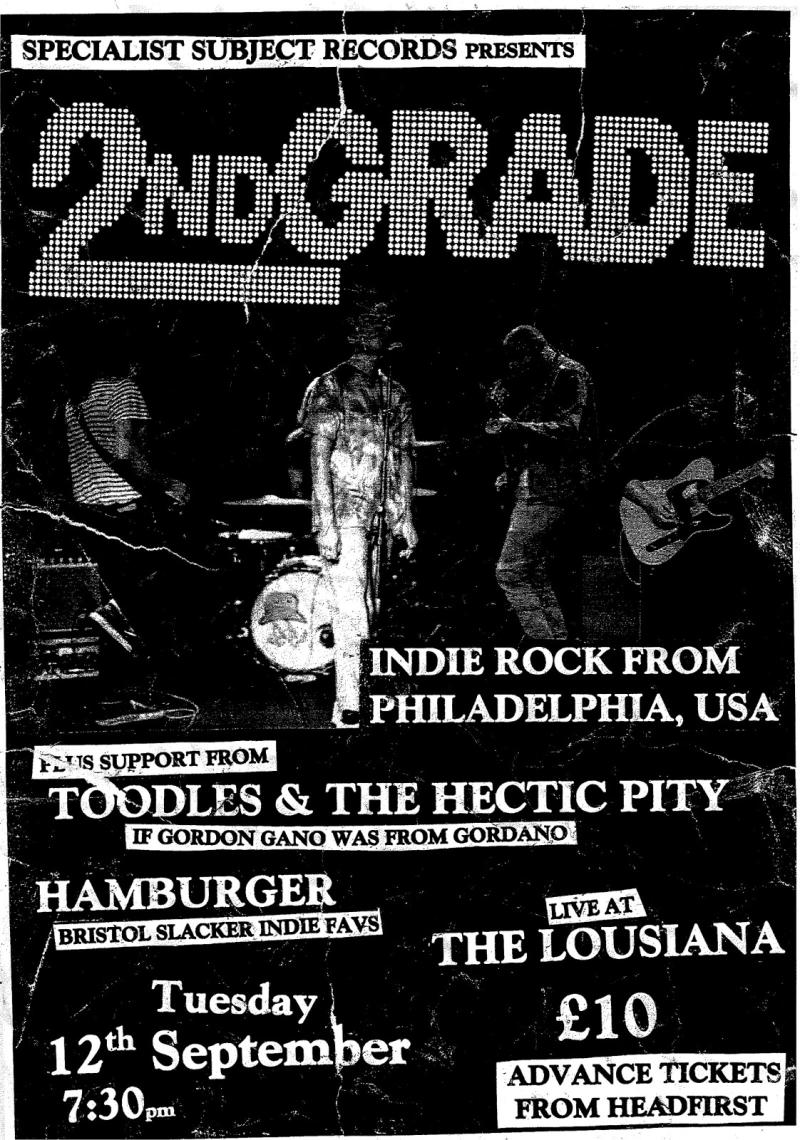 2nd Grade
The Louisiana, Bristol, GB
Tuesday, 12 September 2023
7:30pm
£10 + BF
16+ (under 18s to be accompanied by a responsible adult)
Get Tickets
Specialist Subject Presents: 2nd Grade @ The Louisiana Bristol
2nd Grade live at The Louisiana, Bristol. Tuesday 12th December, 2023 
2nd Grade (Philadelphia, USA)
Awesome indie rock band for fans of Built To Spill, etc. Check out their latest record 'Easy Listening' on Double Double Whammy.

supports from:

Toodles and The Hectic Pity (Bristol)
Local folk-punk favourites - check out their recently released 'Hold Onto Happiness With Both Hands' LP.
Hamburger (Bristol)
Local indie pop in the vein of Trust Fund, etc. Great stuff!

Ringing from hi-fi headphones and blown-out boombox speakers alike comes the overloaded guitar genius of Easy Listening, a record of rock 'n' roll daydreams and terminal boredom, and 2nd Grade's long awaited second LP on Double Double Whammy. Like a blue slushy on a hot day, Easy Listening is a sweet respite. Like the Blue Angels touching down on the Las Vegas Strip, Easy Listening is impossible to ignore. And like a janitor mopping up beer on the floor of the Hollywood Palladium in 1972, hours after the Rolling Stones have finished "Ventilator Blues" and climbed onto the bus,Easy Listening knows the glory and cost of escapism, abandon, and the soul of rock 'n' roll. Philadelphia's 2nd Grade is a band both obsessed with and worthy of rock stardom, and Easy Listening proves their status as virtuosos of the power pop renaissance.
Show starts at 7:30pm.
Line Up