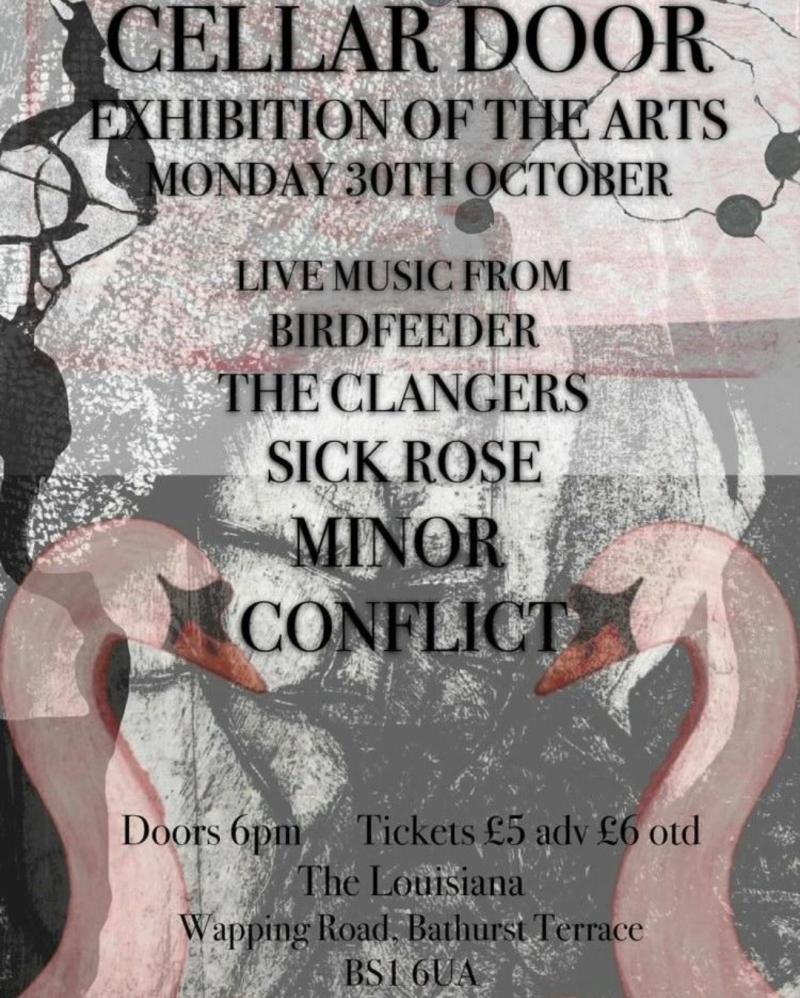 Cellar Door Exhibition
The Louisiana, Bristol, GB
Monday, 30 October 2023
6pm
£5.50 + BF
16+ (under 18s to be accompanied by a responsible adult)
Get Tickets
Yaz Presents: Cellar Door Exhibition @ The Louisiana Bristol
Join us at Cellar Door, a female-run collective, at the Louisiana on Halloween Eve for an unforgettable night of Bristol's finest musicians and a Halloween-themed art exhibition showcasing emerging artists working in various mediums. It will be a proper spooky hoot with an eclectic line-up of genres- there will be something for everyone. There may even be pickle bobbing... Halloween costumes aren't mandatory but are strongly encouraged! (The best dressed wins a prize).

ART EXHIBITION / RITUALS
___________________________________
The exhibition delves into the theme of rituals, presenting a multimedia showcase of sound installation, photography, fine art, illustration & more from up-and-coming local Bristol artists.
ARTISTS
Lola Norwood, Yasmin Egin, Petros Voyatzakis, Ben Crone, Hannah Taylor, Holly Lewin, Bagda, Nancy Gonzalez, Maggie Caddick, Kabir Sawyer, Rosa Hans, Scrungo, Tom Mills, Hebe Rusk, Freya Morrill, Tallis Jay, Barnaby and Caleb.


LIVE MUSIC
___________________
HEADLINER:
MINOR CONFLICT
Bristol-based quartet interweaving harp, bass, drums, trumpet, synth, and vocals.

SICK ROSE
SICKROSE give the listener a glimpse into their own fantasy land with lyricism of the unknown entwined with a psychedelic soundscape to match it. Inspired by the great bands of the 1960s/70 such as Cream and Black Sabbath, they create their unique sound by having a range of diverse material featuring improvised instrumental sections when in a live setting and riffs drenched in reverb and fuzz. The band consists of Jules Armstrong on bass, Max Dunstone on drums, and Luca Powell on guitar & vocals.

THE CLANGERS
Eclectic psychedelia - goofy groovy rock - improvised mess - 5-piece

BIRDFEEDER
BIRDFEEDER is a five-piece dark psych band that takes cues from bands like The Wytches and Black Sabbath, infusing their sound with elements of post-punk and noise, with influences ranging from DITZ to Siouxsie and the Banshees. Intent on delivering an unsettling yet exciting sound.

BIRDFEEDER convey themselves with conviction and intent with dark, doomy riffs (delivered by Guitarist Tom Holman) and unusual noise techniques (Noiseman Jack Wojtowycz) paired with a powerful rhythm section featuring bassist (Ed Thompson) and drummer (Max Dunstone) along with the screeching growl of their vocalist (Lucas Richards).
Show starts at 6pm.
Line Up