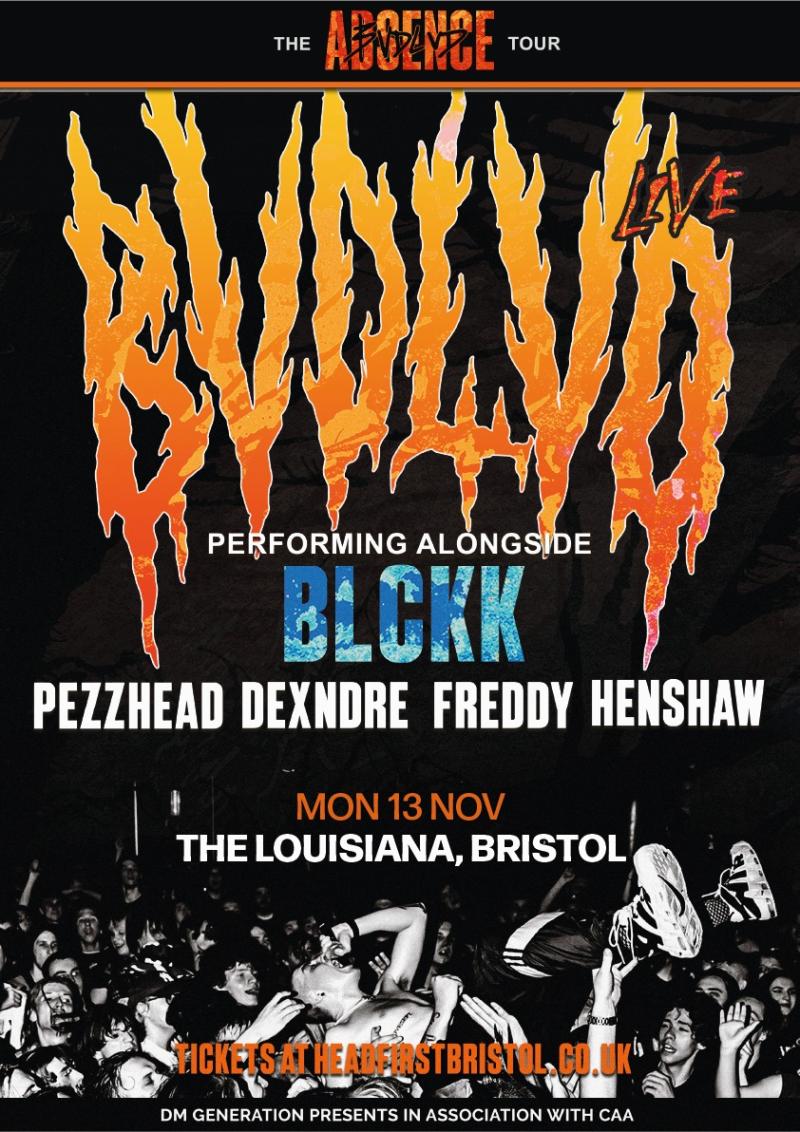 BVDLVD
The Louisiana, Bristol, GB
Monday, 13 November 2023
7:00pm
£12 + BF
16+ (under 18s to be accompanied by a responsible adult)
Get Tickets
DM Generation Presents: BVDLVD @ The Louisiana Bristol
BVDLVD live at The Louisiana, Bristol. Monday, 13th November 2023
BVDLVD (pronounced 'Bad Lad') has evolved, shed his skin and evolved again more times than can be counted since his journey into the music industry started at 16 years old. Alienated by the British education system–a system he's convinced was set up to crush creativity–BVDLVD has paved his way from discovering the raw Trap Metal of XXXTENTACION, Ghostemane, Night Lovell and $uicideboy$ to becoming a Trap Metal prodigy himself in the UK's underground scene. From there, he's continued to push his creativity to the point of being a post-genre mastermind–and his new album 'ABSENCE' is here to prove it.
Dropping out of college to teach himself to record vocals and mix tracks, BVDLVD began his underground revolution by fusing the distorted Trap coming from the States with the underground UK rave culture. Mixing up anger, humour, energy and bass to create a unique, explosive new style that refuses simple categorisation, he debuted a system-crashing noise set to empower outsiders and misfits worldwide.
BVDLVD–real name Josh Pearman–affirms:"I'm a self-taught college drop-out who failed his music GCSEs, so I'm always looking to prove how far I can take my music, despite being 'ill-equipped' in terms of what the British education system says I need to make it far in music. With 'ABSENCE', I really wanted to get my head down and focus on some ofthe core aspects of the art to elevate it to the next level. Progression is always a priority, so I've taken a super in-depth look at my mixing, mastering, vocal performance and, ultimately, becoming the process rather than fighting with it. That is, learning to live and breathe the music."
He continues: " I feel like I'm in the process of making a much needed leap in my music. There's never really been a box that I've felt that I fit in to. So I think I need to say 'f*ck the box' and craft my own. The art will guide me as I guide it.Throughout the process of creating 'ABSENCE', I have become the music. I think in music and I actively search for art with every step that I take.
"It's BVDLVD's unquenchable appetite for surpassing his own personal bests and building a positive community with those who relate to his music that's seen him go so far as an independent artist. BVDLVD has ensured that fans can experience every step of his rise in the industry with him directly via online communities such as Discord as well as live YouTube premieres of his self-directed videos (which have since racked up upwards of 10 million views combined). An artist with a big heart and a deeply personable approach to his fans and haters alike, BVDLVD revealed one special instance of turning online hate and trolling into love and friendship in the YouTube Originals documentary Terms &Conditions: Deeper Than Drill.This saw thousands awe-inspired by his kindness-first approach when a clip of the documentary went viral on TikTok.
Whilst taking his own fans (and haters) firmly under his wing, BVDLVD has also been propelling the UK's underground Trap scene into a globally renowned phenomenon, working tirelessly to ramp up the charge of a new generation ofartists and fans. From co-founding the UK crew LOVE SEPT. alongside fellow innovative MCs HEN$HAW and V.RI, to gaining global traction via collaborations with Russian producer CVRBI, German producer Pulse and USA front runners LilDarkie and SPIDER GANG (including a collaboration series coined DARKLAD and a European tour with Lil Darkie). BVDLVD'S Alt family was widened further via festival spots at Kerrang!'s ALT+LDN festival and Kendal Calling festival, aswell as a slot supporting WARGASM at Lost Horizon Bristol (the venue run by the team behind Glastonbury's Shangri-La).
2023 is the dawn of a new LVD. Having announced his new found sobriety whilst supporting NASCAR ALOE in London earlier this year, the 22-year-old is ready to bear the scarred soul that he's been numbing with substances for years. His upcoming album 'ABSENCE' is a work of brutal self-honesty, capturing intensely vulnerable lyrical moments where hed rops his seemingly invincible persona and allows fans to see the human beneath his superhuman character.
Show starts at 7:00pm.
Line Up