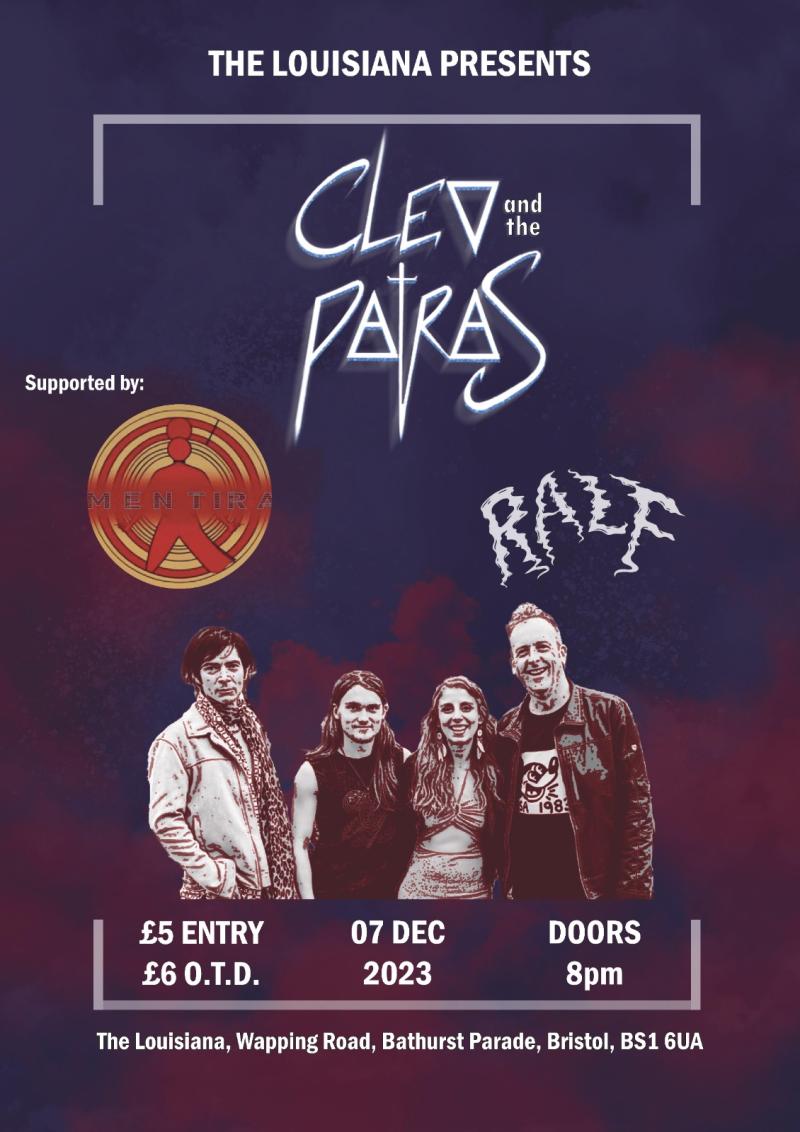 Cleo & The Patras + Mentira + Ralf
The Louisiana, Bristol, GB
Thursday, 7 December 2023
8pm
£5 + BF
16+ (under 18s to be accompanied by a responsible adult)
Get Tickets
The Louisiana Presents: Cleo & The Patras + Mentira + Ralf @ The Louisiana Bristol
Cleo & The Patras + Mentira + Ralf live at The Louisiana, Bristol. Thursday, 7th December 2023
CLEO and the PATRAS:
Cleo and the Patras is a four-piece rock band based in Bristol. Their music is inspired by classic rock sounds while reflecting on contemporary life's themes. Cleo's soprano vocals combine with the Patras' melodic guitar solos and distinctive rhythm to create their unique sound.
MENTIRA:
Mentira is a 5 piece indie and alt-rock band based in Bristol. Formed in November 2022, the members were drawn together through a mutual love of deception, and their sharp lyrics, blunt basslines, and energetic performances are already gaining word of mouth in the Bristol rock scene. Principle songwriter Ewan Bissell at the helm. Accompanying him are Louis Parry-Jones, Emma Greenough, Elliot Houghton and Casey Holborn.
RALF:
A long time ago in a galaxy far far away, there were four idiots who decided to start a band. Influenced by all of the bands people don't listen to, they came together to create a blend of emo and indie music. With twinkly guitars, dual vocals and an energetic rhythm section, their first single "shark week" will leave you wanting less…
Show starts at 8pm.
Line Up
Cleo & The Patras + Mentira + Ralf