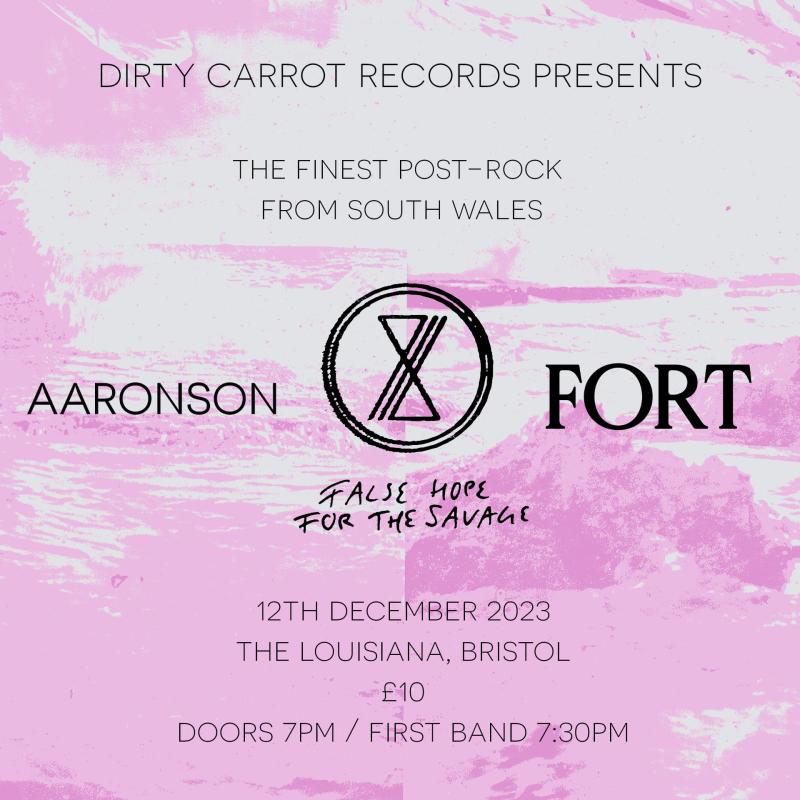 False Hope for the Savage + Aaronson + FORT
The Louisiana, Bristol, GB
Tuesday, 12 December 2023
7:00pm
£10 + BF
16+ (under 18s to be accompanied by a responsible adult)
Get Tickets
Dirty Carrot Records presents : False Hope for the Savage + Aaronson + FORT @ The Louisiana Bristol
False Hope for the Savage + Aaronson + FORT live at The Louisiana, Bristol. Tuesday, 12th December 2023
Dirty Carrot Records presents an evening of the very finest post-rock from South Wales.
Aaronson, False Hope For The Savage and FORT all come with huge reputations the West side of the river Severn and we are super excited to get them all on one line-up for the first time in Bristol!
This promises to be a fantastic, unmissable night of post-rock.
False Hope for the Savage
False Hope for the Save are an instrumental outfit from Cardiff, Wales. Their atmospheric take on post-rock combines delicate ambience with white noise and crushingly loud rhythmic combustion. The band released their debut alnum inAugust 2023. With strong focus on mood and feeling, it contains seven affecting soundscapes that encompass sonic plateaus and sudden crashes. They have supported the like of And So I Will Watch You From Afar, Nordic Giants, The Physics House Band & Tricot in previous years and in 2023 played Takedown Festival, Focus Wales and ArcTanGent Festival
Aaronson
Post-rock trio AARONSON hail from Barry in South Wales and create "songs that incorporate plenty of slow burn and build up, resulting in gorgeous crescendos" (The Razors Edge). The release of their EP 'You Are Not A Stranger Here' (2020) and subsequent shows, saw the band become known for their evocative and atmospheric performances, leading them to sign with Dirty Carrot Records. Their album 'The Great Swells That Carry Us Will Pull Us Under' (2023) was mixed and mastered by renowned producer Charlie Francis (REM, Future of the Left, Turin Brakes) and has received critical acclaim.
"More than just an album, but a work of art" (Amplify The Noise)
"The band's skilled delivery and meticulous deployment of compositional formation highlight a new and promising post rock act that is exceptionally adept at what they do." (Destroy//Exist)
"A sonic masterpiece that will leave fans of post-rock in awe" (The Musical Road)
"Pulls the listener into a swelling dreamscape from which you may never wish to surface" (EDM Rekords)
"The album flows like a rip-current, dependably sedate only at the sobering end" (A Closer Listen)
"A captivating instrumental experience" – (Rock Era Magazine)
"A stunning showcase of AARONSON's talent and ability to craft enveloping instrumental music" (Plastic Magazine)
FORT
Progressive/post rock quartet FORT bring a raw edge to the genre, with cutting riffs and soaring crescendos. Elements of math rock and post metal added to the mix, to create an unmissable show. After releasing their latest EP, a string of shows across the country supporting the likes of PG Lost, Poly Math, Bi-Curious and the Nightmares, they show no sign of losing steam.
Show starts at 7:00pm.
Line Up
False Hope for the Savage + Aaronson + FORT