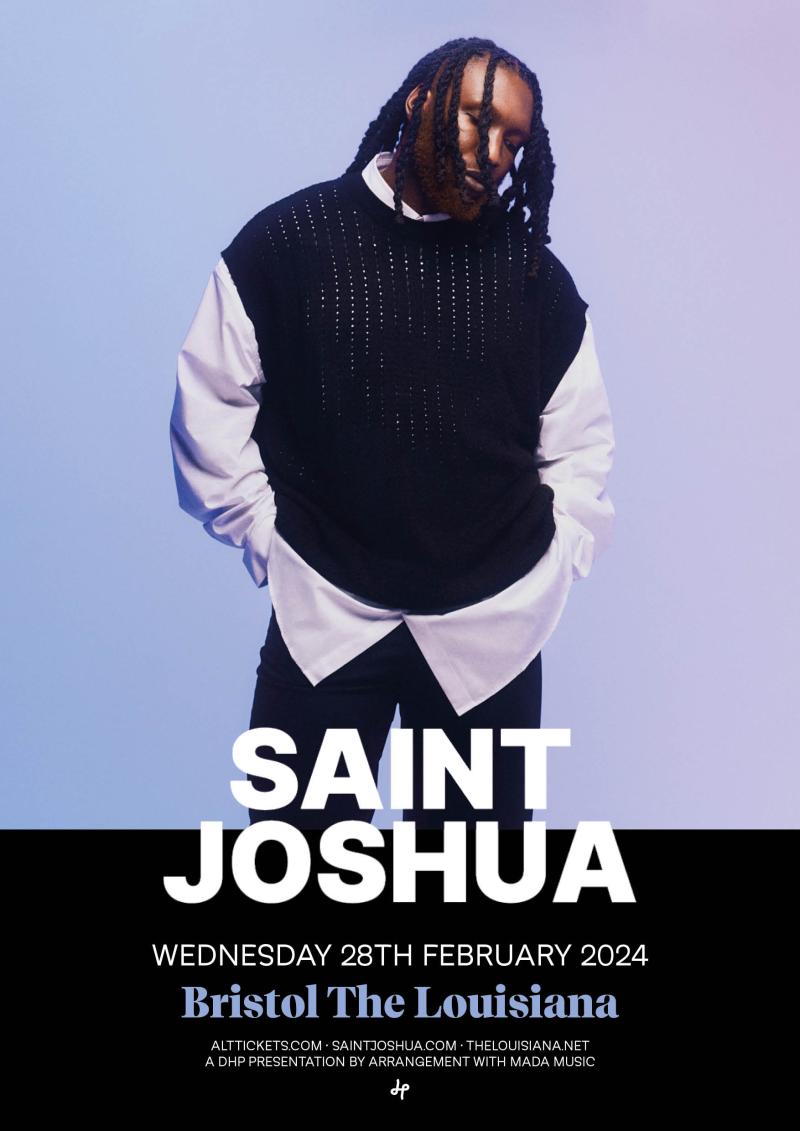 Saint Joshua
The Louisiana, Bristol, GB
Wednesday, 28 February 2024
7:30pm
£10 + BF
16+ (under 18s to be accompanied by a responsible adult)
Get Tickets
DHP Family Presents: Saint Joshua @ The Louisiana Bristol
Saint Joshua live at The Louisiana, Bristol. Wednesday, 28th February, 2024
Rooted in pop and R&B but often experimental, Saint's approach is malleable and always reflective of the story he wants to tell > Notion Magazine (2023)
Croydon based Saint Joshua finally announces the new rescheduled 4 date UK Tour dates including Bristol, Nottingham, Leeds and Manchester….The show are announced ahead of releasing yet another big R&B Pop tune 'Do U Ever Call?' and ahead of his London headline show 14th November at The Grace and taken from his new project out early 2024. 
As an independent artist, Saint has been gaining strong progress with over 13,000,000 streams, gained his first Digital cover from Notion Magazine, being included in Complex Magazine's 'R&BArtistsToWatchIn2023'and recently nominated for Best Independent EP/Mixtape for 'EP2' at this year's AIM Independent Music Awards 2023. He also prepares to play his 2nd London headline show 14th November at The Grace.
Saint effortlessly mixes R&B and pop to bring his music to the forefront along with his dreamy vocals and elegant beats. At the heart of Saint Joshua's music lives his gift for storytelling. Through his gorgeous sounds and evocative lyrics, he paints vivid pictures and shares narratives about the highs and lows of life and dating. His ability to convey emotions and experiences resonates deeply with his audience, creating a sense of connection and understanding. For fans of Daniel Caesar, Maxwell, Kwaku Asante.
While enjoying these intimate shows, it's important to recognize that Saint Joshua's talent and dedication will likely lead him to even greater heights. With his captivating sound and storytelling ability, it is only a matter of time before he finds himself selling out iconic venues across the UK and across the world. This small, intimate experience allows fans to appreciate his artistry up close before he reaches mainstream success.
Carrying on from the recent success from the August single Blah Blah Blah, Do U Ever Call? is the second single to be taken from his anticipated new project due out in 2024 and another of Saints big vibe tunes with a chorus that you will be singing for days.  Co-written with another long time collaborator Jack Ducker at Fairlight Studios who also produced and mixed the song and finally mastered by Andy 'Hippie' Baldwin at Metropolis. With a smooth driving  beat and soul lead verses, the song really lifts up a level with an upbeat and lively chorus. With slick production throughout the single is definitely one to hear.
Released 18th August this year, Blah Blah Blah has had over 16,300 streams so far and gained strong National radio and press with 9 plays from Radio 1 including Future Soul x3 (Mollie King), Future Artists x3 (Jack Saunders), Future Soul (DJ Ace), R&B Mix (Victoria Jane) and BBC Introducing. Large features came from Wonderland, Record Of The Day, Clash, Man About Town and Ticketmaster ran a Discovery feature and a week long New Music feature. Having had a busy 2023, Saint has been writing the new project but also had time to play his debut London headline show in Feb to a sold out crowd. In April, he released  EP3 (Live) which was filmed and recorded at Bush Hall. In May, he performed at The Great Escape and Dot To Dot Festival. He also launched his new website and merchandise Store. 
Launching in 2021 with his debut EP, Pilot, he has gone on to release two further studio EPs,  EP2 and EP3 in 2022, including singles Palo Santo, Stuck On You and Trip, helping him gain over 13 million streams across the board along with 9 million on Spotify alone. Support from the likes of New Music Friday and national press and radio from Radio 1 (Jack Saunders - Next Wave), 1Xtra and Apple Music gained him slots on BBC Introducing stages at both Latitude and Live At Leeds. Strong press coverage has come from Notion, Wonderland Magazines, Clash, 1883, Oculate Mag and PRS publication M Magazine to name a few. He was also supported as a featured artist by Vevo and Channel 4's Sunday Brunch. He was a recipient of the PRS Momentum Fund to support future releases. 
2024 is planning to be a big one with further UK and EU Touring amongst his debut trip to the US. It also brings the release of the next project in April with some festivals throughout the year.
"I could not love that anymore, how good is it? How good is his vocal? It is so smooth and so chilled, nothing not to love about that!" > Mollie King BBC Radio 1 (Future Pop)
Show starts at 7:30pm.
Line Up